My family recently went on our first Disney cruise.  Even though we have traveled a lot with our kids, I felt very overwhelmed while planning for this trip for some reason!  I asked for tips from my readers on my Facebook page (view all the helpful comments here), and that really helped make me feel more at ease.  I also did some searching online, and my favorite "tips" post was this one.  So much great information!
We had so much fun, and it really is a perfect trip for families/reunions, etc.  With the kids' club and nursery, the adults can enjoy some time for themselves, too.  (There are many clubs and restaurants that are for adults only, and there is also one section of the pool deck that's only for adults.)  We let our kids have some free rein since everything is contained on the ship, and they thought that was pretty darn cool since that never happens on vacation!  :)
With one whopping Disney cruise under my belt at this point, I'm certainly no expert, but I thought it might help other newbies like me if I put this post together while the experience is still fresh in my mind.
To be clear, I am not writing this post on behalf of Disney Cruise Line, nor do I benefit from them in any way (monetarily or otherwise) for writing this.  Some links in this post are affiliate/referral links, however.  Please click here for more information about affiliate linking.
To start, here are some basic details to help you understand our experience:
– We traveled on the Fantasy.  The ship was immaculate.  Very impressive!
– We went on the 7-day Caribbean cruise that stops in St. Maarten, St. Thomas/St. John, and Castaway Cay (Disney's private island).  We also had 3 days at sea.
– We rented 2 connecting rooms because there are 6 of us (5 is the maximum number of people allowed in the staterooms we rented).  Our three older girls were in one room; my husband and I were in the other room with our baby on the other side of a privacy curtain.
– We flew into Orlando and then took the Disney Cruise Line bus to the ship.  The ride was about 45 minutes.  Our luggage was transferred for us.  We didn't even have to go to baggage claim at the airport.  Our bags simply arrived outside our door around 5 pm that night.  (So make sure you have everything you need for the day in your carry-ons!)  We also did the onboard check-in when we departed.  We had to place our bags outside our door the night before we left, and we simply claimed our bags at the airport when we landed at our final destination.  That was pretty awesome!
– At the time of travel, our kids were ages 11, 9, 6, and almost 2.
When packing for this trip, I felt the need to be "extra prepared" since we would be isolated on the ship without the ability to run to the nearest mall for anything I might have forgotten.  I also knew that space would be tight, so I wanted to make sure we didn't feel like we were going to lose our minds after 7 days in such close quarters!  See below for 15 things I would recommend packing.
FLYING WITH A BABY?
Don't miss this post with 30 smart tips for flying with a baby. We have flown a lot with little ones over the years – in this post I share all the ins and out of my system to make airplane travel with a baby as painless as possible!
Click on the photo below to read all my best tips!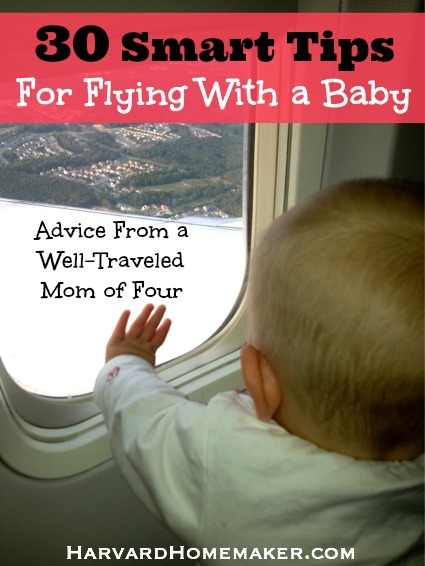 15 THINGS TO PACK FOR A DISNEY CRUISE
 1.  SHOE RACK RIGGED ON A HANGER
I came across the idea to use a shoe rack on a cruise ship here, thanks to a reader's suggestion.  Because there is not a lot of horizontal space available in a typical stateroom, and there are so many little things to keep track of, I thought this idea was genius!  But then I heard that Disney Cruise Line had banned them because they were damaging the doors.  Bummer!
I kept staring at my shoe rack, though, thinking that I could probably still use it somehow.  So I had the idea to secure it to a hanger, and it worked out perfectly!  In this post, I share 100+ ideas to help organize your home, and I show various ways to use a shoe rack (my favorite  is in the linen closet where you free up space on your shelves by storing medicines, etc. in a shoe rack inside the door), and I also frequently use pipe cleaners (to keep Christmas lights organized, for example).   This is yet one more way you can use both of those handy items.  :)
I used a few pipe cleaners to attach my shoe rack to a hanger, and I packed my contraption in my suitcase (it took up less space than you might think).  I was originally thinking I'd hang it in the closet, but there were three hooks on the wall when we arrived.  It worked out great to hang the rack from one of those hooks as shown below.
It really was so helpful throughout the week to help us keep track of all the small things as well as shoes (so we weren't constantly tripping over them).  I would definitely bring one again if we cruise again someday!
Speaking of shoes, if you or someone in your family is in need of sandals before your trip, I am a huge fan of anything made by Reef.  They make THE BEST flip-flops – so comfortable, and they last forever.  I still wear a pair of Reef sandals that I got EIGHT years ago!!  They are still my favorites.  That's a long lifespan for flip-flops!  :) Find women's styles here. They also have great clothing, and the shoes for men and kids are awesome, too!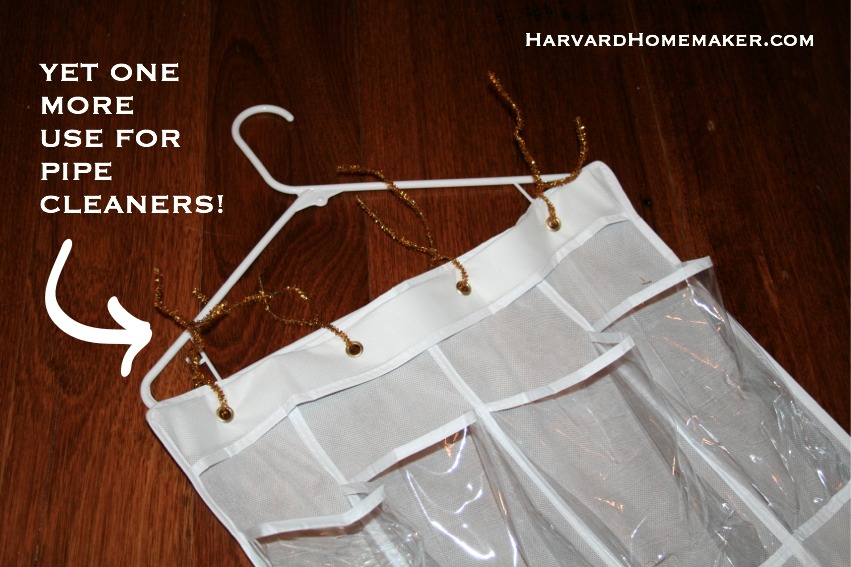 Our rooms had three hooks as shown.  I simply hung the hanger on one of the hooks.  Perfect!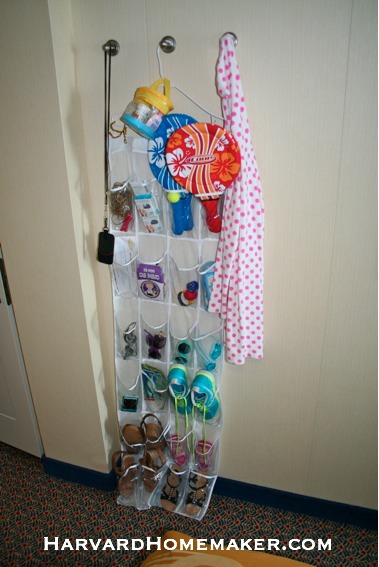 2.  A WATCH (PREFERABLY FOR ALL FAMILY MEMBERS)
You will rarely see a clock anywhere, and we never carried our phones (because we weren't using them), so the watch I brought with me was so handy.  (I have a Deuce watch like this and I love it.  I don't like when a watch makes an imprint on my wrist — it bothers me — so this flexible "bracelet" style is perfect for me.  It's also water-resistant, which is ideal for a tropical vacation!)  Next time, I'd bring a watch for each of us because there were times when we weren't together, and my one watch couldn't be everywhere!  Find a large selection of kids' watches here.
You might think that you don't really need to know what time it is because you're on vacation, but you need to be aware of the time for things like your dinner seating, show times, and of course, getting back to the ship before it leaves any certain port!
3.  MAGNETS & PICTURES TO DECORATE YOUR DOOR
All the doors are magnetic, and you will see people decorating them.  My kids all drew something before we left (they each had flowers tucked around them in their birth announcement pictures, and now that has become "their flower" that they identify with–so cute!  Hence, the flowers they drew to represent themselves, as shown below).  The magnets and pictures were literally the first things they wanted me to unpack when our suitcases arrived.  So bring a few magnets if you'd like to participate in that bit of fun!  It also makes your room easier for your kids to find if you allow them to buzz around the ship without you.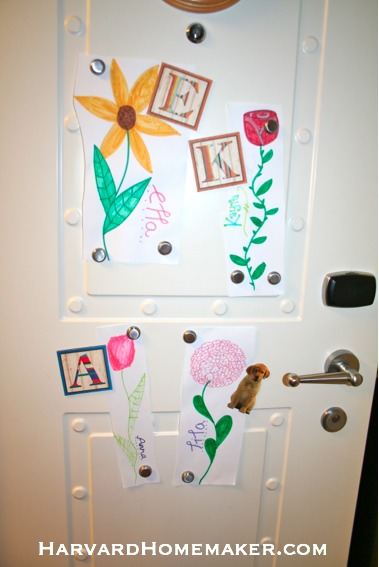 4.  CLOTHESPINS TO HANG UP WET SUITS
You will have a lot of wet stuff to dry throughout your trip!  At the last minute, I tossed about 10 clothespins into my suitcase, and I was so glad I did.  (I also brought some string to rig a clothesline in the room, but I never ended up using that.)  As shown below, you'll be able to hang wet swimsuits and coverups on a clothesline in the shower, but that space fills up quickly.  You can hang a lot more by using clothespins than you can by just draping the clothes over the line.
There are two clotheslines in your shower, but I only used one because you end up having to move most everything when you shower anyhow.  I kept wanting to hang the string I brought somewhere in the room so I wouldn't have to keep moving everything, but I could never figure out a good place to do it with the beds being taken down out of the ceiling and the wall each night!
Speaking of beach clothes, if you're looking for some new options before your trip, Sun Diego Boardshops has some really good stuff!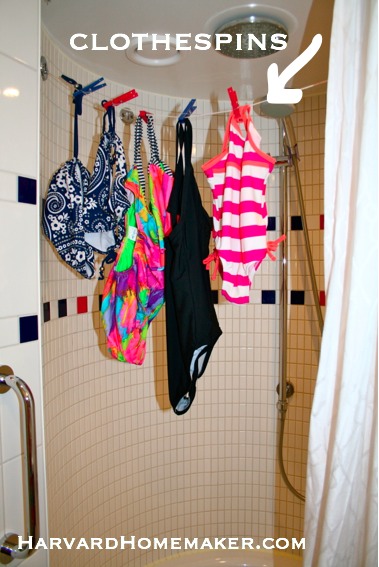 5.  WATER BOTTLE FOR EACH FAMILY MEMBER
We did not drink the water from the sink in our room, so we carried around water bottles for each of us.  I happened to bring some food/snacks on the plane in a small shopping bag (think a "nice" one from a store with sturdy handles), and I ended up putting all the water bottles in that.  I took it everywhere.  On Deck 11 (where the pool is and where you'll likely eat breakfast and lunch most days at Cabana's), there is a station to get soft drinks and water, so I'd fill the water bottles up as needed, including each night before we went to bed.  That way we always had plenty of water to drink when we were in our room.  (Each room has a small refrigerator.)  The water bottles were also handy when we went ashore or even just when hanging out by the pool.
6.  SNACKS
My husband laughed at me when I tucked bags of almonds, granola bars, crackers, etc. into our suitcase.  He kept saying, "You know the food is included, right?!"  But we were both so glad to have the snacks once we were on the ship.  There is definitely plenty of food, but sometimes it was just easier to grab something to snack on right in the room, and I would also tuck some snacks in my bag when we went ashore.  When our kids were hungry between meals, it was nice to be able to hand them something without having to call room service or head out to find something.
With that said, we hit the soft-serve ice cream stand on Deck 11 at least once each day!  :)
7.  MEDICINE & SEA-BANDS
While the crew is great about passing out wipes each time you walk into a restaurant for a meal to help keep the spread of germs at bay, there is always the chance for illness.  One of my girls did end up getting sick toward the end of our trip (thankfully, it lasted less than 24 hours).  I was so glad to have some medicine packed so I could give it to her quickly without having to track some down on the ship.
I also brought Sea-Bands as shown below.  My sister-in-law told me about them.  She said that they really work if you're feeling seasick.  I found them at Target, and I brought them with me just in case.  My husband almost put them on the first night (that's really the only night we were too aware of the ship's movement), but none of us ended up needing them.  I just returned them when we got home (they were about $9/each, so kind of pricey), but I was glad to have them handy.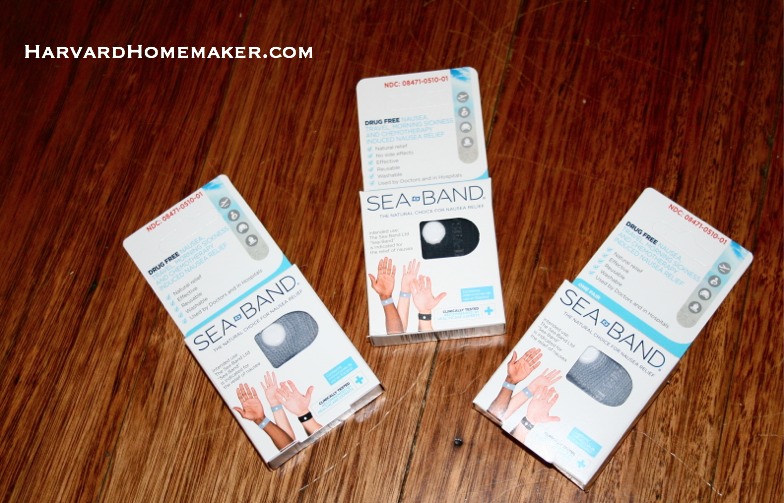 8.  SOUND MACHINE (OR APP ON PHONE) & NIGHTLIGHT
Your room will be awesomely dark thanks to the black-out curtains, so you might want to pack a nightlight; my kids definitely wanted it on at night so they could see if they got up.  We also used an app on our phones (such as Ambiance or Sleep Pillow) to drown out the sounds of other guests in the hallway or walking above you.  The sound machine app was particularly helpful during the day when our youngest was napping.  Not only did it help mask the sounds of guests outside, but it also kept her from hearing us as we moved about on the other side of the curtain or on the balcony right outside her door!
9.  2-3 LANYARDS TO HOLD "KEY TO THE WORLD"
They sell lanyards on the the ship, but if you have one (or more), definitely pack it!  I only brought the one shown below, but I wished I'd brought more.  I just took a strap I found in our playroom and I attached a luggage tag to it!  :)  You will see people all over the ship wearing these to help them keep their "Key to the World" handy.  (That's the key to your room and what you'll need as an ID for getting on/off the ship; you can also use it to make purchases onboard.  It's really the only thing you'll need to carry.)  Next time I would bring a few of these so if the kids went off on their own together, at least one of them would have a key that we knew they wouldn't lose!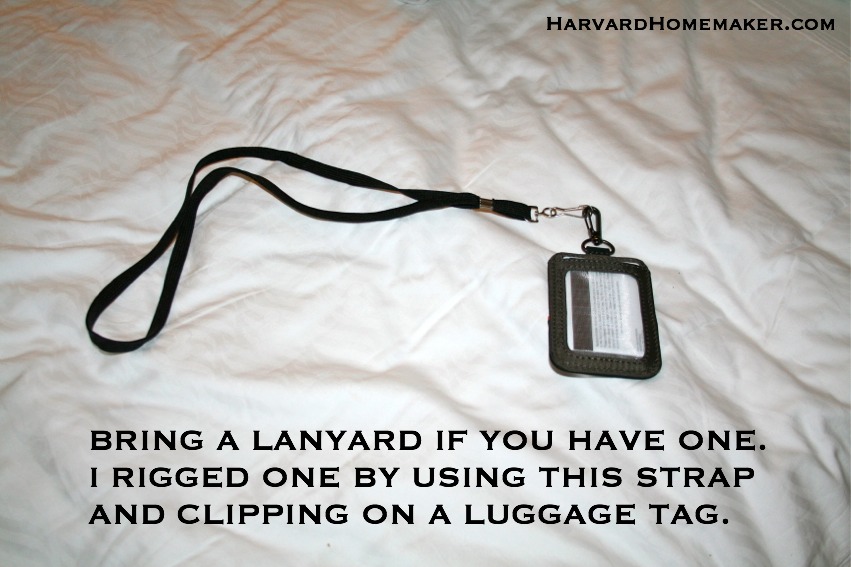 10.  TONS OF SUNBLOCK (PLAN FOR 1 SPRAY BOTTLE PER DAY)
We went through nearly one bottle of spray sunblock per day.  For our family of six, I brought 6 bottles, and we were down to our last bottle by the time our trip was over on day 7.  You can buy it on the ship, too, but it will cost you more.
11.  POWER STRIP
There are very few outlets in your room.  I only saw one in the bathroom and it said "shavers only" so I never even attempted to use it.  (I used the blow dryer provided, which had a European plug.  I blew my hair dry out in the main part of the room.)  In the main part of the room, I only saw two "regular" outlets on the counter.  One will be needed to charge your wave phone that they provide to you (so you can reach your party on the ship); that only leaves one available outlet.  I was very glad to have a power strip with me as shown below.
Update: A reader recently emailed me and said she heard Disney Cruise Line doesn't allow power strips/extension cords any longer unless it's for medical purposes.  I'm not sure about this, but that could very well be the case.  I will say that mine was out in the open all week, and housekeeping never told me I couldn't use it, nor did I see any information stating that it wasn't allowed.  So I'm not sure what the right answer is there!  :)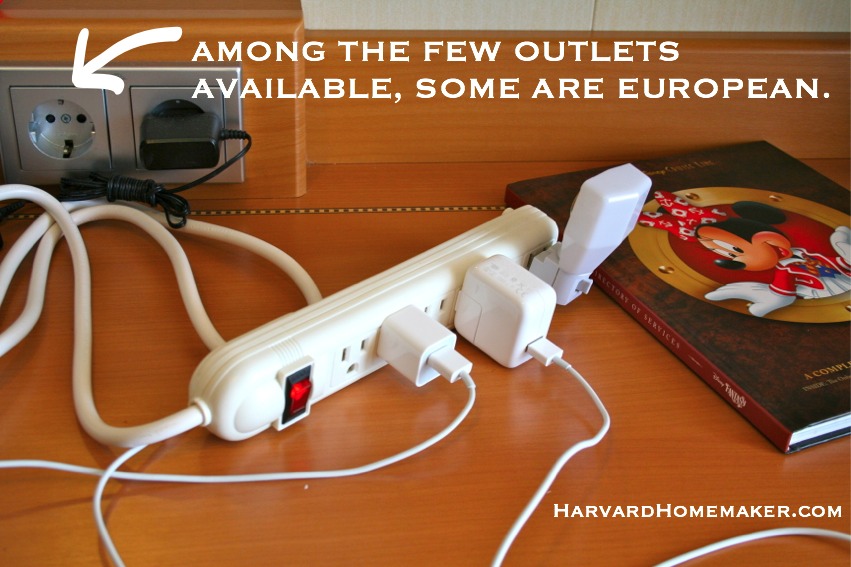 12.  A KEEPSAKE FOR THE CHARACTERS TO SIGN
This was a great tip that several readers shared here in this Facebook post where I asked for suggestions!  If you bring something for the characters to sign, you can drop it off at guest services early in your trip, and then it will magically appear in your room before you depart!  I brought the mat of a frame, and I provided markers, too.   They could also sign a book, pillowcase, etc.  I believe you can have two things per stateroom signed.  I tucked an extra Christmas card inside with it to give them an idea of who they were signing for, just to add a little personal touch.  (Site note:  I got our holiday card shown below at Minted.  I am quite possibly their biggest fan, as you'll see in this post!  I have gotten my Christmas cards there the last two years, and I can't say enough about their quality!  Most beautiful paper ever.)
Now I just need to print a picture from our trip and tuck it in the frame!  Our girls loved that Goofy's signature looks like the number 60074.  :)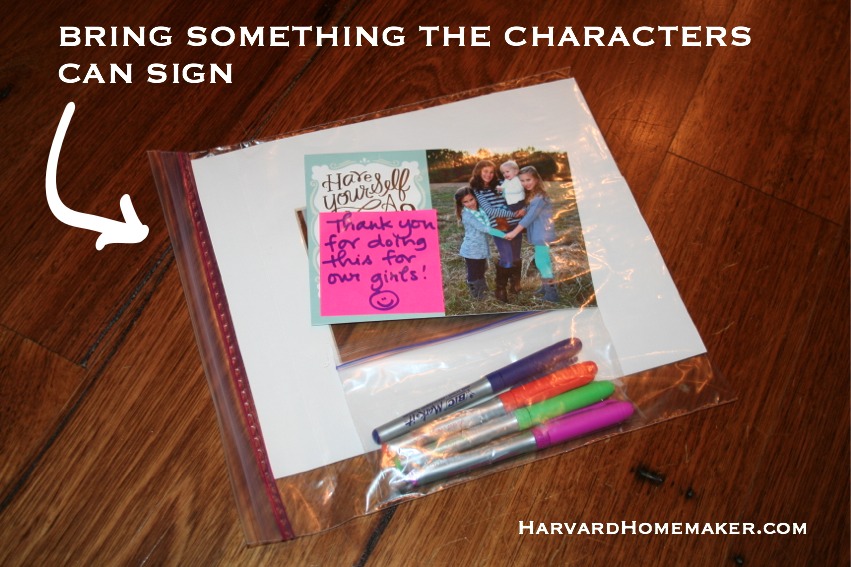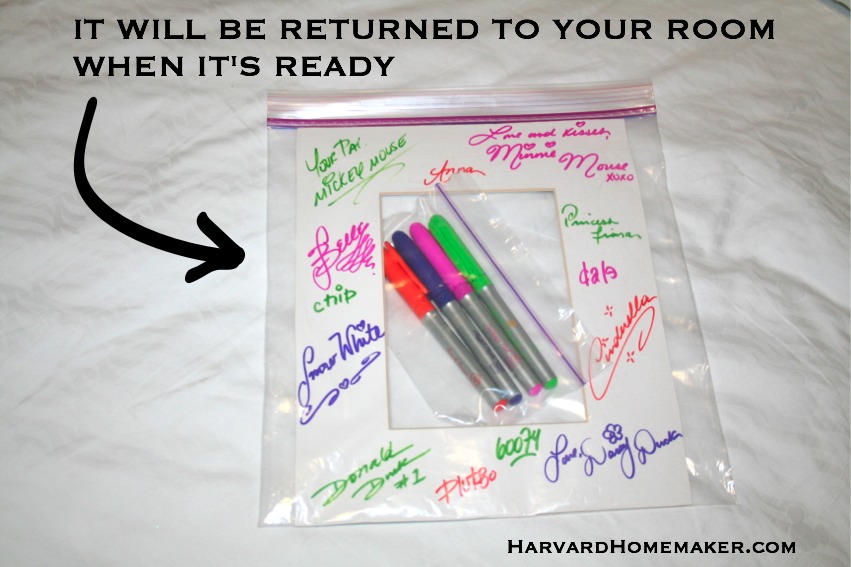 13.  BOOKS/READING MATERIAL
While I saw on some blogs that people brought books but didn't read, we read a lot!  Perhaps that was because our kids were young enough that we didn't stay out too late most nights.  (We had the early dinner seating at 5:45, and one of us would usually then go to a show with the older three while the other parent put the baby to bed.)  Because our baby was on the other side of the privacy curtain where the TV was (which only had Disney shows programmed anyhow), my husband and I couldn't turn the TV on.  And the Internet didn't work well, so we couldn't do much on our computers either.  So there was a lot of reading time for us at night once the kids were in bed!  We also read when the baby napped during the day — we were so glad to have a small balcony for that!  It was actually very relaxing to sit out there on sea days, away from the crowds.  But if your kids are older, you may not be in your room as much as we were, and thus, the balcony might not really be needed.
My husband finished the only book he brought fairly quickly, and then he was wishing he had more to read (there was a small selection of books for sale on the ship).  So definitely pack plenty of reading material just in case!  For book recommendations, check out this post with 100 book options for all ages and genders.  I read Unbroken by Laura Hillenbrand on the trip, and it's an absolutely unbelievable true story.  There are three men lost at sea, and I kept finding myself staring out at the vast ocean, wondering how they could have possibly endured so much.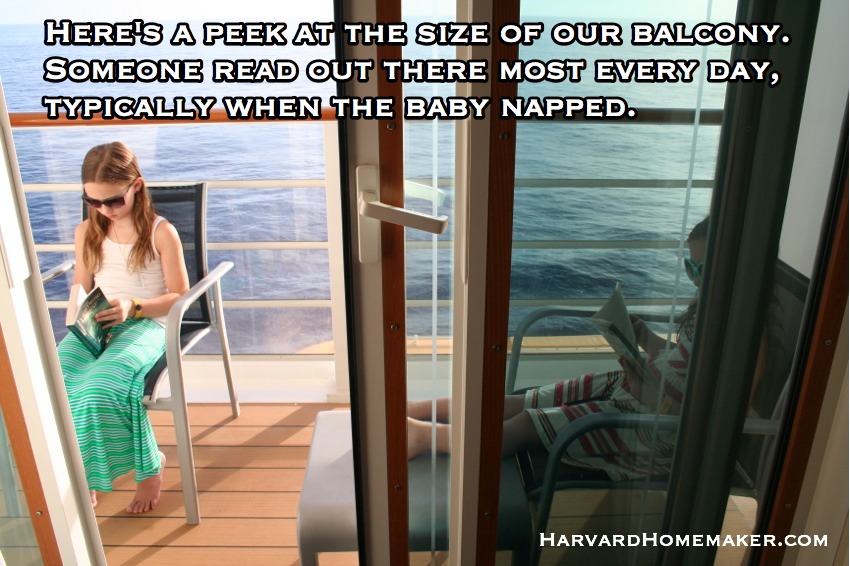 14.  ZIPLOCKS & LARGE PLASTIC BAGS
Whether you do the onboard check-in or not, you will need to put your luggage outside your door the night before you leave.  We did do the onboard check-in, which meant that our bags were transported for us to the airport and checked through to our final destination.  We didn't see them again until they came down the shoot at baggage claim.  That was a beautiful thing!  But that also meant that we had to pack most of our toiletries ahead of time because not all the liquids were small enough (3.4 oz. or less) to come on the plane with us as a carry-on.  We were glad to have a ziplock for those small liquid items still in our possession since we had to take them through security at the airport.
We also had a lot of suits that were still wet on that last day.  I brought a bunch of plastic grocery bags, and they were great for keeping all those wet items separate inside our bags.
Speaking of luggage, I had been worried about space for storing it in our staterooms throughout the week, but luckily, there was plenty of space under our bed; it was wide open.  I actually kept a suitcase open under the bed, and we'd slide it out to throw our dirty laundry into it, and then slide it back in again where it was out of the way.  There are also washers and dryers onboard if you need to do any laundry.  I never used them myself.
15.  COSTUMES FOR PIRATE NIGHT
Finally, if your cruise features a pirate night, definitely dress up for that!  It really makes the night even more fun.  They will leave each person a bandana in your stateroom, and you'll see a lot of people just wearing that somehow.  But if you plan ahead, you can bring a few extra things to complete your look!
With all daughters, we had NOTHING for pirate costumes (no swords, eye patches, etc.), so I reached out to my friends with boys.  They did give me some great stuff to borrow, but in the end, I decided most of it would be too hard to pack.   So I ended up creating the easiest, most packable costumes possible!  I simply cut up a t-shirt for each of us, and then I bought some red fabric that wouldn't fray (it was actually fleece) and cut a sash for each person.  (I already had all but two t-shirts on hand since we like to do tie-dying, and I often buy shirts in packs… so that worked out in my favor!)
I then swung by the party store and found eye patches for only $0.30 each.  We all wore black on the bottom (one daughter borrowed her buddy's striped pirate pants), and then I knew we'd each get a bandana to use to complete our look once we were on the ship.  It really was so easy, and it took up very little space in my suitcase.  We got a lot of compliments (and "that was a smart idea!") around the ship — people seemed to love that we all matched!
Keep in mind that they have lots of fun backdrops set up where the photographers can take your picture on this night (and every night).  Unfortunately, this was the night that one of my daughters ended up getting sick, so our night was over before we could get to that.  :(
If you'd rather buy pirate costumes, check out this super cute little girl costume and this fun one for boys.
DISNEY PRINCESS COSTUMES FOR GIRLS – BRING THEM WITH YOU!
One last thing – we saw little girls EVERYWHERE in princess costumes! You can buy them on the ship, but they are marked up because of the demand, so definitely plan ahead if you think your daughter will want to be dressed up! Find all the Disney princess costumes here if you want to shop before you travel. You'll most certainly save money that way.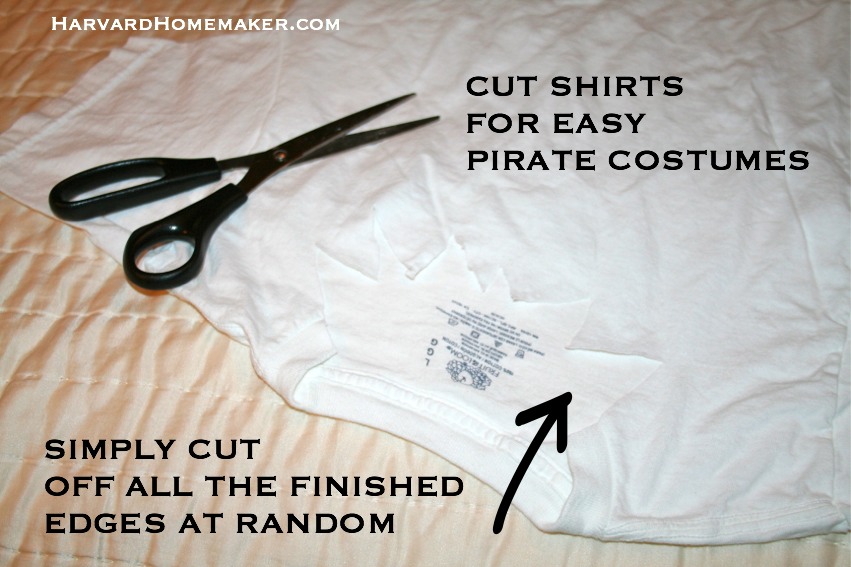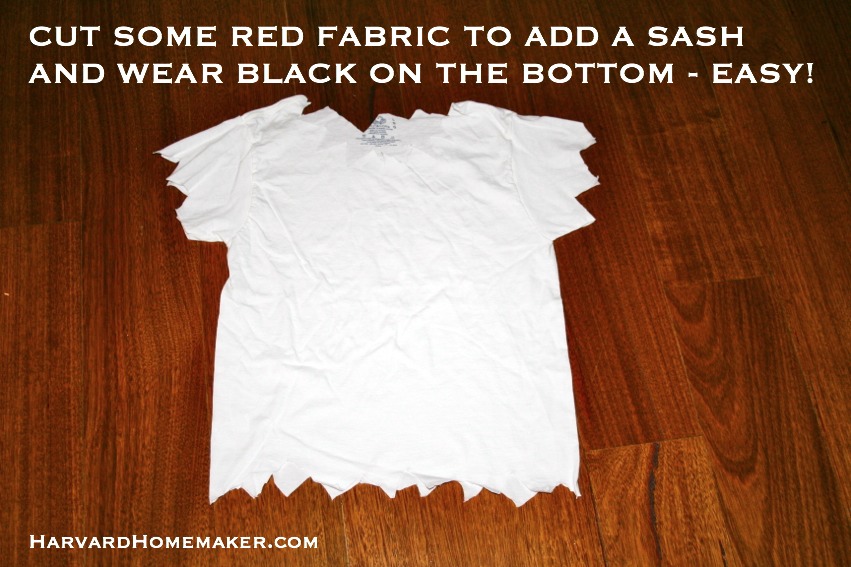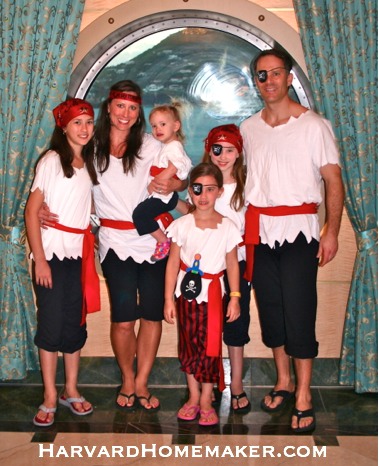 IN NEED OF LUGGAGE?
Find a huge selection with great deals here at Luggage Online. I am a bag fan of Briggs & Riley luggage myself – I know they will absolutely stand behind their products if you have any issues. With that said, we fly a lot, and we've yet to have a single broken zipper or problem with the pieces we have – it's been 6 years now. I really like the interior configuration in luggage like this – as I explain in this post where I share a travel tip to use dry cleaning bags, we like to tuck dresses and even my husband's suits inside our luggage rather than carry a hanging bag.  Also, I love to use a rolling duffle like this for all my kids' clothes – I can pack for all 3 of my older kids in here for a week!!
Luggage Tip: I use a luggage scale so I know what my bag weighs before I get to the airport – very handy to avoid an annoying extra charge when you get there, on top of your regular baggage fee! Most airlines have a limit of 50 pounds – you want to pack in the fewest number of bags possible since you're paying to check them (and it's more to keep track of), so I load up right to the 50 pound mark before adding a new bag if needed. A luggage scale like this would make a great gift or stocking stuffer – it's even portable!
OTHER THOUGHTS & TIPS
EXCURSIONS
With the exception of a few of us doing the stingray experience on Castaway Cay (they loved it!), we did not do any excursions.  The baby was too young for all of them, and we were worried about feeling too scheduled.  I heard a lot of great things, though!  We actually took our time going ashore on port days.  Our girls really enjoyed having the pool and the AquaDuck (the slide that wraps around the ship) to themselves for a while.
We did stop by the Butterfly Garden in St. Thomas.  Each of our girls was able to hold a butterfly in her hand, and they really loved that.  I got a lot of great pictures that day!
We didn't stop at Atlantis, but I know many of the cruise ships stop there (including Disney Cruise Line).  If you get the chance to go there as one of your port stops, I highly recommend it!  We have vacationed there, and it's absolutely awesome.  We chose a different itinerary for our cruise for various reasons, but you would surely love Atlantis as one of your stops.  We have done the dolphin experience there at Dolphin Cay, and even though it's very pricey, we thought it was worth it if you can swing it.  Our kids talk about that all the time, and we made memories that we'll keep with us forever.
Our favorite port during our trip was definitely Castaway Cay!  You don't have to worry about food because they have everything set up on shore for you.  There are fruit stands, ice cream stations, soft drinks, smoothies, etc.  There is so much to do, and there's even a kids' club on the island if your kids want to go there for a while.  You can rent just about anything once you get there (we pedaled around on the aqua trikes), and there are even jogging strollers that you can use for the little ones.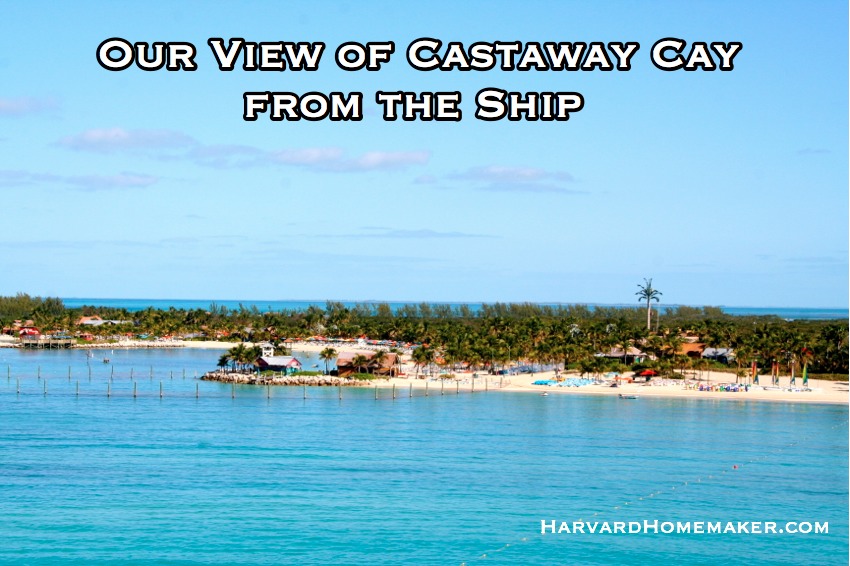 STROLLERS
Speaking of strollers, we brought a small umbrella stroller with us this time that has a sun visor (I love this one by MacLaren; I've now had two MacLarens over the course of 11 years).  Even though it's not good in the sand, it's awesome to maneuver in tight spaces because it steers like nobody's business.  It's also lightweight and it's compact when folded, so that makes it ideal for traveling.
I decided to leave my Bob Revolution stroller behind, but I do love that one for the beach and walking/running outdoors, so it's handy for trips.  (They also carry them at REI and at Target online if you want to compare prices.)  If you're wondering, I have flown with that stroller before (as I discuss here in my post with tips for flying with a baby), and there's no problem with its size when flying.  They will hand-check it when you go through security, and you can also gate-check it right at the door of the plane without trouble (just like with any stroller/carseat).  If you have an infant, you'll also need an adapter like this (get the right one to fit your carseat!) if you want to be able to snap the infant carrier right into the stroller.  Thanks to the visor on your carseat and the huge one the stroller provides, your baby can sleep in there, completely hidden by the sun.  It really works out well, and the stroller cuts right through the sand if you're on the beach.
But for this particular trip, I was afraid my beloved Bob would take up too much space, and I was glad I made that choice.  I think it would have felt "tight" to have that one in our stateroom, in the narrow hallways, in the crowds/elevators, etc.  Even the doors to the staterooms are more narrow than a standard door.  It would have been hard to get a larger jogger in and out – I probably would've had to collapse it in the hallway.
If I had an infant on a cruise, I would have used my cart stroller like this (it's compatible with various infant carriers – be sure yours will fit or keep searching for a model that will work for you.  If you have twins, find a double version here.  If you're looking to buy an infant carrier/snap-in stroller as a set, you can find that here).  After having a "system" stroller with my first daughter that took up the entire backseat of my car (I hated it, and it was so heavy), I ended up getting a much less expensive snap n go cart to use for my other daughters.  The basket was huge, so I could load it up with everything I needed, and then I'd just snap the carseat right on top of it all.  It was lightweight and much smaller than my bulky "system" stroller had been — so handy for traveling, going to the mall, etc.  I had many friends who borrowed it from me, too.  I really think it's the way to go… basic, functional, and gets the job done!
NURSERY
We did use the nursery, and we had no problems.  The staff is wonderful.  We did not have our daughter sleep there, though.  The "sleep room" is filled with cribs, but they are not private.  We were not sure how our daughter would do sleeping in that environment, but it probably would have been fine.  (The biggest problem might well have been her trying to chat with the other babies right next to her!)  Instead, we had her nap in our room and we'd just read on the balcony during that time.  It was actually quite peaceful.  Typically our older girls went in the kids' club or even watched a movie in our room to chill out in the afternoons while their sister napped.  (The TV's in each room are loaded with Disney movies!)  On sea days, sometimes it was nice to escape the busy pool deck after a while.
We also used the nursery on two of the sea days in the morning.  Because no swim diapers are allowed in the pools, our youngest could really only enjoy the splash area, and she would sometimes get frustrated when she'd try to go in the pool, and we had to hold her back.  When we took her to the nursery, it allowed my husband and me to relax while our older girls had their fun around the pool deck.
We never had a problem reserving time for her in the nursery.  We kept changing the times we had reserved because it was hard to plan ahead.  The nursery staff did tell me that space fills up the fastest on sea days, so I did book some hours for those mornings on our first day on the ship since I knew I could always cancel (up until 3 hours before, I believe).  I was also told that you could stop by any time, and if they had space, you could leave your child for a while without even making a reservation.
KIDS' CLUB
Our girls had fun in the kids' club, and they spent time there most afternoons and sometimes briefly in the evenings.  They could check themselves in; we just had to check them out.  The counselors working in the kids' club are high-energy, and my girls loved them all!  We stayed on the 6th floor, and since the kids' club was on the 5th floor, that was very convenient.  Our daughters just had to zip down the stairs and go down the hallway, and they were there!  (The nursery is also right next to the kids' club).
DINNERS
We had the early seating (5:45) which was perfect for our young family.  We were then finished in time for the evening show. There are three restaurants, and you will rotate each night.  (So on day four, you start again at your first restaurant.  Your waiters move with you as well.)  We LOVED Animator's Palate the most.  The kids will really enjoy the interactive TV screens.  If you can help it, don't plan your "adult dinner" on one of those nights (we ended up moving our dinner at Palo for that reason) because you won't want to miss a dinner there!  Your last night at Animator's Palate, you will probably all draw a character, and then the characters come to life on the screen in a show at the end of your night!  It's really amazing, and we all (even my husband and me!) loved seeing our drawings dance around!
Toward the end of our week, it started to feel like a bit much for me (as the mom of four girls!) to get everyone bathed (including myself) and looking decent in time for dinner.  That never happens 7 nights in a row.  Ever.  So we actually skipped dinner one night and grabbed some food up at the pool instead.  We lounged in the chairs and had our dinner in our laps while we watched a movie on the big screen.  The kids jumped on the AquaDuck whenever they felt like it (the beauty of NO LINE!), and we just enjoyed a relaxing night where no one had to hurry down to dinner — or take a shower!  That was a nice change of pace to switch things up.  (Although it was pretty chilly.  Definitely bring some long sleeves if you do that, at least in February!)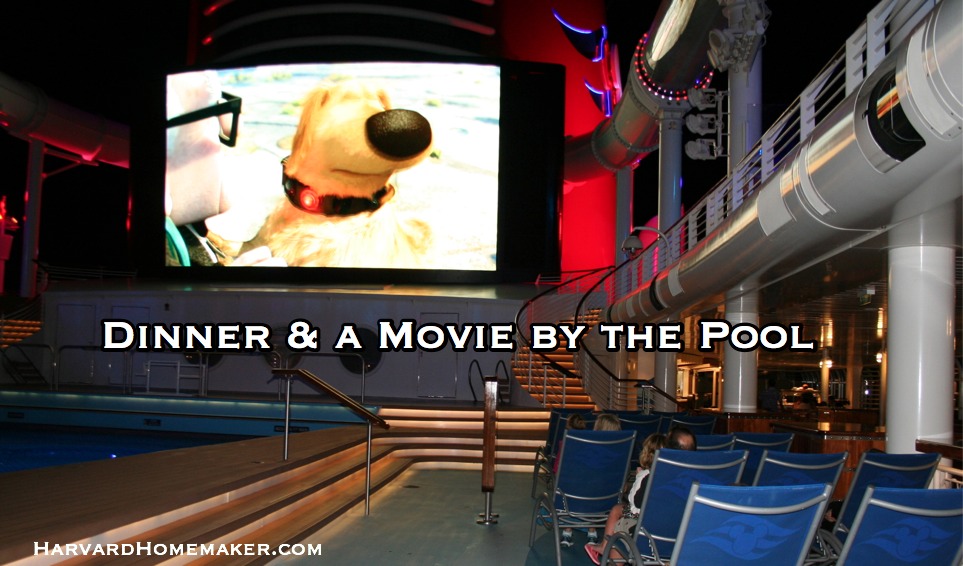 ADULT DINNER – PALO OR REMY
One night my husband and I ate at Palo, and it was one of the best meals we've ever had!  It really was amazing.  We put the baby in the nursery, and we let our older girls go to a show on their own.  It worked out great.  We tried to make a reservation before we got on the ship, but we had no luck.  The day you board, there will be a place you can go (ours was The Royal Court) to make/change dinner reservations.  We had no problem booking a dinner at Palo at that time since they hold some reservations until the ship sails.  We then had to cancel that reservation later in the week, however, and we still were able to get in off the wait list to enjoy our dinner on another night.  So if you strike out when making a reservation, too, hopefully it all works out somehow!  I definitely recommend having an adult dinner one night at either Palo (Italian) or Remy (French).
Note that there is a dress-code at both restaurants.  At Remy, the men even need a jacket.  For the ladies, dresses, nice pants, blouses, skirts, etc. are required. You can find some great maxi dresses here that would be perfect on vacation. I like to wear maxi dresses myself on vacation because I don't feel like I need to wear heels, which can be uncomfortable and take up a lot of valuable space in your suitcase.  I also often fly in a casual maxi dress because they are cute, comfy, and I can't stand when my bare legs touch the seats! :) If you're a plus-sized gal, find some beautiful, flattering dresses here. Another great site for women's clothing is Evereve – I'm a huge fan, and it was started in my home state of Minnesota! It's growing like crazy, and they are opening more stores all over the country all the time! And one last tip for all you ladies – you need to have this bra. My friends and I all call it "the no back-fat bra" – it will smooth you out and make your clothes look better! Promise. It's worth every penny. Aside from sports bras, it's the only style of bra I have worn since I first discovered it more than 10 years ago!!
PICTURES
The lines were typically long for the professional pictures, so get down there early if you want one taken before your dinner seating.  We only stood in line once — on formal night.  (We girls all wore sundresses and my husband wore a suit and tie.  Most people were dressed up, but not everyone.  I think it's a fun excuse to look nice and get a rare, special picture of your family!)  The photographer on the ship is not supposed to use your own camera, but you can ask the person behind you to take your picture.  I actually only bought two of the professional pictures taken, but I saw some people who ordered the photo books.  They were looking at them as we were all in line, departing the ship on the final morning.  If you have a lot of professional pictures taken, that would be a great keepsake to take home with you!
SHOWS
Definitely go to the shows!  They are great and only about 45-60 minutes — perfect before you start to "lose" the kids.  You can buy snacks/popcorn outside the theater.  If you get the refillable container (for cheaper popcorn refills), you can actually use it all week long.  They also gave me extra paper containers each time so I could fill up my big tub once and then distribute the popcorn to my three older kids.  On our cruise, Aladdin was our favorite show (so awesome!), but they were all very impressive!  I can't say enough about the quality of the shows… Broadway-caliber for sure!
Think this post is helpful?
Please "Pin" the image below to share it with your friends!
Thanks for spreading the word! :)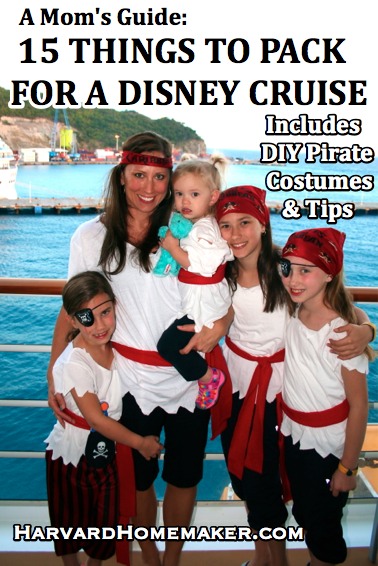 There are SO MANY ideas and thoughts to share — I could literally sit here and type forever!  But I hope this post has given you some good tidbits to take with you anyhow.  You will love your vacation, I'm sure!  We really tried to have a relaxed, go-with-the flow attitude, and we made so many great memories!  Something like this would be a perfect trip for an extended family or multiple families.  We would love to go back sometime so our kids could share the experience with their cousins.
If I am completely honest, though, I think next time we might take a slightly shorter cruise.  With no TV and little Internet (the connection was usually terrible and very frustrating), my husband and I felt a bit isolated by the end of the trip (perhaps, in part, because we sailed during the Olympics, and we had no idea what was happening!  We felt like we were missing out.)  On our particular cruise, three days at sea also felt like a lot of time for everyone to be on the ship at once — it could get a bit crowded.  Next time we'd probably go for maybe 4-5 nights and perhaps even go to some of the theme parks on one end of the trip.  I'm sure plenty of people out there would have a different opinion on that, though!
If you have taken a Disney Cruise (or any cruise), what advice can you share?  Please feel free to comment below to make this post an even more valuable resource for potential travelers!  And let me know if you have any questions, too!
Happy Cruising, my friends!  :)
If you'd like to keep up with me and my blog, please follow along via Facebook, Pinterest, Twitter, Instagram, Google+, or you can sign up for my monthly newsletter in the footer of my site! :)