When my oldest daughter was turning 10, I began to realize just how fast time was really going. My youngest was still an infant, and so as I'd look at that baby in my arms, I could vividly remember holding my oldest in just the same way. Had it really been ten years since she first made me a mother?
And yet it seemed like a lifetime ago… we have come so far since then.
Even though I would say that I am someone who really savors life's most precious moments (see how I put together a scavenger hunt to reveal our fourth daughter's name to her three older sisters), I have never been one to get emotional over things like the first day of kindergarten, for example. Maybe that's because my daughters always seemed so ready for that next step; it was hard to feel sad when they were so happy. (Although when my fourth goes to kindergarten, I might very well be a puddle!)
But for some reason, my oldest daughter's 10th birthday hit me hard. I cried while thinking about what to do for her birthday. I cried while putting together her gifts. And I bawled on the day itself. (I'm sure the poor girl was thinking – What is wrong with Mom?!)
There was something about her hitting double digits. My baby was growing up – and fast. Puberty was on its way, and she was beginning to ask me different types of questions. And so, as I brainstormed about something special to give her, I remembered seeing this idea on Pinterest where a blogger shared an idea to start a "Mama & Me" journal with her daughter. I decided that would be the perfect gift for her, with a few simple changes that I had in mind:
1) I would call it a SAFE JOURNAL.
2) I wanted my husband to be a part of it, too. It's important to us that our daughters know they can also go to their dad with anything throughout life. (Let's be honest, though – much of this stuff falls on me as a woman since we have daughters, but we think Dad should at least be a part of the conversation along the way).
3) It would be less of a back-and-forth dialogue (like pen-pals) and more of a place to go with feelings or concerns that were somehow difficult to bring up in person.
4) Instead of hiding the journal under one another's pillow (although a cute idea!), our daughter could simply hand it to one of us with her note inside or leave it somewhere for us (on our bed, typically). I have been the one to write her back initially, and then I/we will slide the journal back to her. Then, a good discussion about the topic has always followed where things end with a meaningful hug and her feeling so much better about whatever had been on her mind!
It has now been a year and a half since I first gave her the Safe Journal, and it's been such a wonderful thing that I plan to do the same thing for my other three daughters when they turn 10. A new tradition has been born in our family! I can't even begin to tell you what great conversations have come from this. My oldest is actually a pretty forthcoming child, but there have still been times where she's been more comfortable "talking" to us this way – or at least initiating the conversation. With my other (more reserved) daughters, I think this experience might be even more valuable.
Read below to see more on how you can start a Safe Journal with your own daughter – or son!  I think this would be a great thing for boys as well! I also recommend some books that would be perfect to give to your son or daughter as puberty hits.
Disclosure:  Some links in this post are affiliate/referral links.  Please click here for further explanation.
First, I found a simple journal, and then I printed a little label for the front of it as shown below (that took me a few tries!). Since that time, I have discovered so many great personalized journals! (See below in the post for more details.) I will definitely go that route for daughters 2, 3, and 4!  :)
UPDATE: Since I first wrote this post, I have now given my second daughter her own Safe Journal as she turned 10. (What?! How do I have TWO girls in the double digits?!) I got my second daughter this journal, and it's SO PERFECT! (And I didn't have to fight with any labels giving me trouble – bonus!!) It's the striped one you see here in the post. I added some new pictures so you can see it!
Below you'll see the Safe Journal I ordered for my second daughter. Click here or on the image below to see where I got it and design your own! She absolutely LOVES it!
I opened the book, and I began to write her a letter to explain the gift. I wasn't quite sure where my words would take me, but I spoke from the heart (and I cried the entire time… I even had to take breaks to recover… whew! Get a grip, Mom!).
This is how my letter came out:
To our sweet girl,
We can't believe you turn 10 today! How fast the time has gone. It seems like just yesterday you came into this world and made us parents. The day you arrived, you gave our lives new meaning. We love each other very much, but from the first moment we held you, we knew an entirely different kind of love. The kind of love a parent feels for their child is simply indescribable. Someday, a long time from now, we hope you will know that kind of love when you become a mom. Only then will you know how much you and your sisters mean to us. We are so proud of the young lady you are becoming. You are growing up so quickly, and that's where this journal comes in. You will undoubtedly have many questions and concerns in the coming years, and some of these may be very personal. We want you to know that we are always here for you, and you can ask us anything at all, no matter what that might be. If you ever have a hard time bringing up something that concerns you, we thought maybe you would feel more comfortable writing it down. This is your "Safe Journal" where you should always feel safe to write absolutely anything you might want to talk to us about. You can then leave either of us the journal, and we can write you back or talk with you in person – that's up to you. We hope this is a gift you will treasure and use often over the coming years. We look forward to seeing where life takes you!
With so much love on your 10th birthday, 
Mom & Dad
When she opened the journal, she sat very quietly reading my letter. And then, just as quietly, she came over and hugged me. We sat that way for a long time. It was such a sweet moment, and I think we'll both always remember that exchange. This gift cost me no more than the few dollars I spent on the journal, but I can't think of anything more meaningful to give to my 10-year-old.
As I mentioned above, if you choose to start this tradition, please know that there are so many fun personalized journals for kids out there these days for both boys and girls! (Find some more masculine journals here that might work for your son.) I know I will create something extra special online next time now that I know these options exist! (And save myself the trouble of figuring out how to print the darn label correctly!!!)
UPDATE: I DID do just that and ordered a journal online the second time around. Find it here. I couldn't be happier with how it came out, and my daughter was thrilled!
PLEASE CLICK ON THE JOURNALS BELOW TO FIND THEM AND CREATE YOUR OWN.
This is the one I chose for daughter #2:
More options and ideas:
This journal below would work well with your son's name or "Safe Journal" printed on the front.
It would also be fun to upload a special picture to personalize the photo journal below for your daughter or son. Maybe you could even use a picture of your child with Mom and Dad!
Along with the Safe Journal, I also gave my daughter a book that my friends with older daughters had suggested:  The Care and Keeping of You, 1: The Body Book for Younger Girls (recommended for ages 8 & up; it's created by American Girl). My daughter absolutely devoured the book. Obviously she was very curious about what was starting to happen to her body (and what would soon be happening), and this book really helped her understand all that. I think she was also "proud" in a way to be reading it, because it meant she was growing up!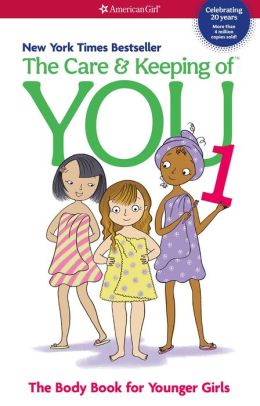 American Girl has also put out a second book for older girls: The Care and Keeping of You, 2: The Body Book for Older Girls (Recommended ages: 10 & up). We do not yet have this book (since I just discovered it while writing this post!), but I plan to pick it up. If it's anything like the first book, I think the information will be well-received.
Please keep in mind that I saw a few comments where some parents thought the illustrations were a bit too graphic for kids, but I'm personally of the mindset that we shouldn't be ashamed of our bodies (nor of the changes puberty brings). Kids today are growing up faster than ever, and I really want my girls to have a good handle on the truth and reality when they're mature enough to discuss it. And I know I want these things discussed at home to ensure that the information they receive is correct.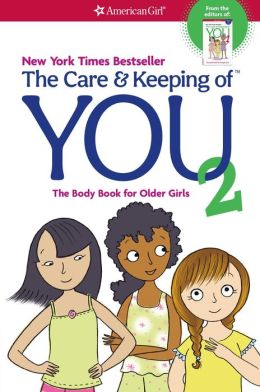 I don't have a son, but my friends with boys have recommended this book to help explain puberty from a boy's perspective: The Boy's Body Book: Everything You Need for Growing Up You by Kelli Dunham.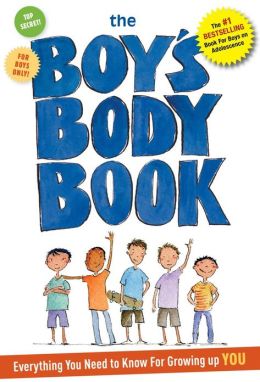 If it hadn't been for my friends with older kids talking about these books, I honestly don't think I would have thought to get my daughter something like this. But it has really seemed to be something she's appreciated, and for her, 10 was the perfect age to start learning and understanding more about her body so there would be no surprises in the coming years! And with her Safe Journal, she is now more aware than ever that it's okay to have questions, confusion, and emotional ups and downs – and she knows that we are here to help guide her through all of it.
Enjoy this post?
If so, please pin the image below to share the idea with your friends – thanks for spreading the word!
What special things have you done for your child's 10th birthday? How do you ensure good communication between yourself and your children? Do you have these books (or others) and would you recommend them or no? As always, readers (including myself!) enjoy hearing what you have to share!
If you'd like to keep up with me and my blog, please follow along via Facebook, Pinterest, Twitter, Instagram, Google+, or you can sign up for my monthly newsletter in the footer of my site! :)