My kids will be out of school next week (man, that went fast!). That means it's time for us to put together our Summer Fun List.
The Summer Fun List came to be after we moved to Pittsburgh. That first summer we were here, we decided to be tourists in our own city. Everything was new to us, and it was overwhelming to think of all the things we wanted to try to do and see. So we made a list and taped it up on the window in our kitchen. Throughout the summer, we tried to cross off as many activities as we could.
Our Summer Fun List was a big hit that year for our family, and we have since made it a tradition every summer. Read below to learn more about starting this tradition with your own family and find a printable list to help you brainstorm!

MAKE A LIST
The first thing you need, obviously, is a list. We like to brainstorm as a group to do this. My kids love to toss out ideas, and it starts getting everyone excited about the summer ahead.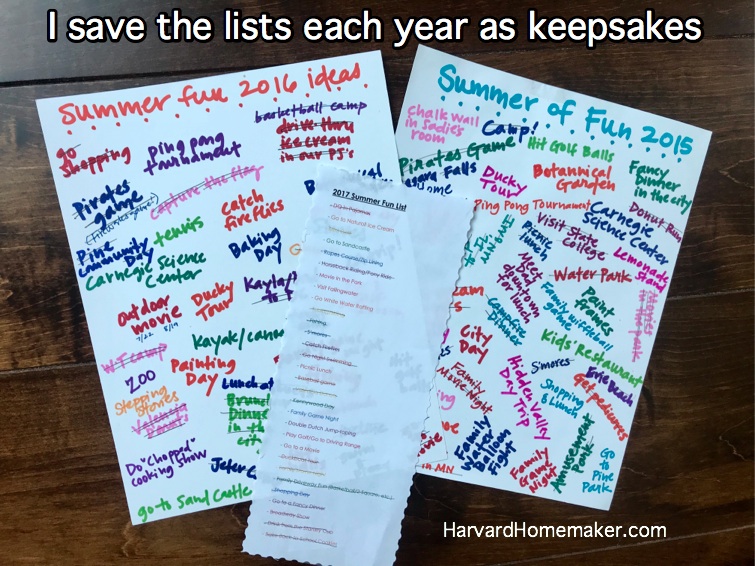 ACTIVITY IDEAS
As we put our list together each year, some things are big and exciting (like going on a trip!), and some things are simple (like catching fireflies). You don't have to come up with elaborate or expensive activities to make it a memorable summer. And we certainly don't check everything off the list – it just gives us things to pick from.
Find some ideas below to help get you thinking about your own list…
*GET A PRINTABLE PDF OF THE LIST BY CLICKING THIS LINK: Summer Fun List by Harvard Homemaker
GET OUTSIDE (SIMPLE ACTIVITIES)
Campfire – hot dogs & s'mores
Catch fireflies
Lemonade stand
Have a picnic lunch (we usually do this in our backyard)
Fun in the driveway as a family (play basketball, jump rope, 4-square, etc.)
Swimming
Ride bikes
Take a walk
Skip rocks
Go to a park/playground
Make an obstacle course
Family water balloon fight
Go on a scavenger hunt
Take a hike
Fun with sidewalk chalk (make a Hopscotch board)
Fly a kite
Go to a beach
Play wiffleball, kickball, etc. as a family
Play an outdoor game (capture the flag, kick the can, flashlight tag, etc.)
Backyard games (bocce ball, corn hole, ladder golf, etc.)
Family "tournament" (ping pong, backyard games, whatever you have available)
Frisbee golf
Run through a sprinkler
Slip + Slide
Go strawberry picking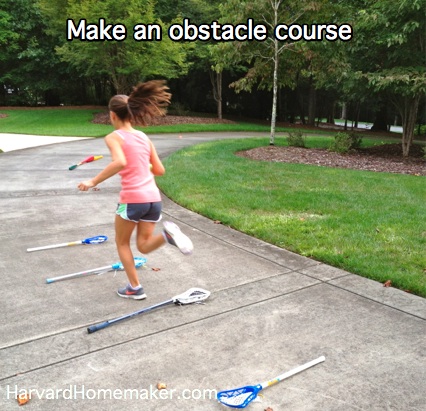 GET OUTSIDE (NEED EQUIPMENT/MORE EFFORT)
Water-skiing or tubing
Paddle-boarding
Kayaking or canoeing
White-water rafting
Do a ropes course/zip-lining
Horseback riding
Boat ride
Fishing
Tennis or pickleball
Beach volleyball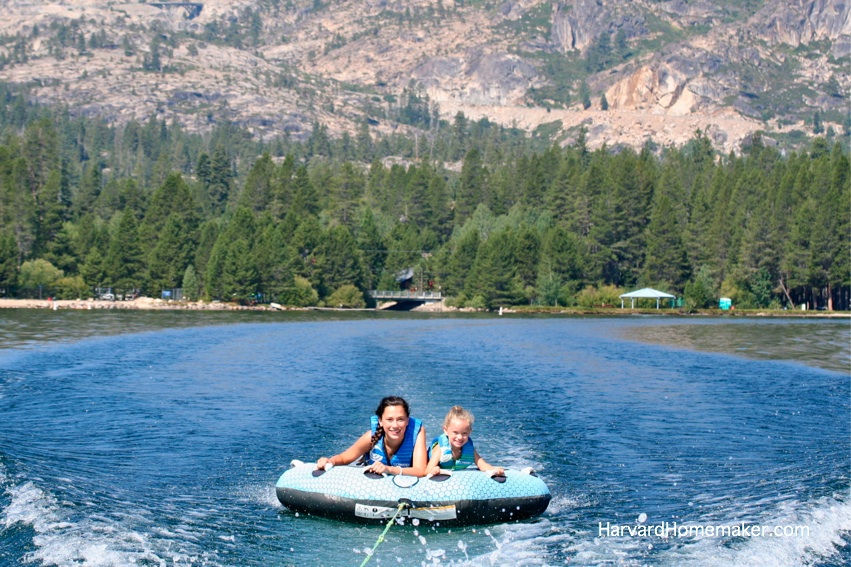 STAY HOME/RAINY DAY
Watch a movie
Bake cookies
Tie-dye shirts
Have a sleepover in the family room
Build a fort
Play cards
Work on a craft or project (you could have a tradition – painting rocks, for example, and add them to your garden each year)
Make stepping stones (this could also be a tradition each summer – you could keep adding to your collection)
At-home spa day (can you tell I have four daughters?)
Read a book aloud as a group throughout the summer
Family game night
Make a special dinner together (maybe your kids take turns helping to cook)
Do a puzzle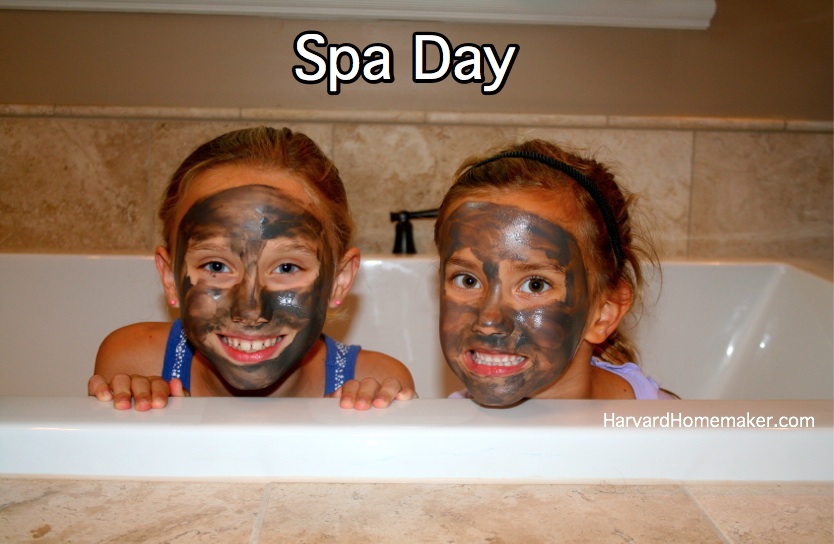 OUTINGS
Go to a movie at the theater
Go through the Dairy Queen drive-through in your pajamas one night (this is always a hit for our crew)
Visit Mom/Dad at work and go out for lunch
Go out for ice cream
Go to a baseball game (we have a pro team in Pittsburgh, so we go to a Pirates game)
Outdoor movie (our community shows them on a big screen each summer)
Mini golf
Amusement park
Water park
Museum
Zoo
Go to a play or show
Go out for a nice dinner or brunch (maybe everyone dresses up)
Go out for donuts one morning
Play golf (or go to a driving range)
Shopping day (we do this at the end of the summer for school clothes and/or school supplies)
Camping
Bowling
Go to the library
See fireworks
Take a trip
Explore what your area has to offer!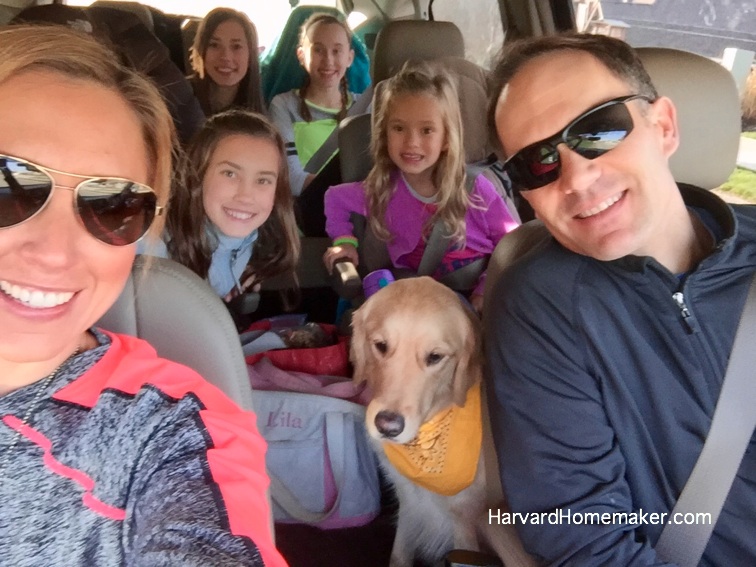 MAKE THE LIST A POSITIVE
Some final words on the "Summer Fun List" idea…
The last thing you want is for the list to trigger stress. Maybe your kids are whining that your family has barely checked anything off the list. Or perhaps you, yourself, are feeling guilty because it's been hard to get to the "fun" stuff – most items on your list are still there as summer wraps up.
Whatever happens, don't let the list become a negative. Maybe the list is used as a reward – your kids get to choose an activity from the list after good behavior. Or maybe you set a family goal to try to choose one thing each week throughout the summer. Or perhaps you just wing it and see what you get to – that's what we do.
The way I see it is that if the list inspires you to check off even ONE item, that's one fun moment you and your kids have shared together – something you might not have made the effort to do otherwise. Think of the list as memorable moments yet to come. Use it as a catalyst to ensure some special times so that the summer doesn't get away from you before you know it! And remember that with each activity you cross off the list, you ALL win. No doubt those moments will be some of your highlights this summer – and perhaps moments you cherish for years to come.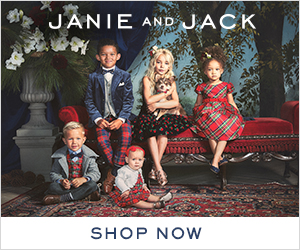 WHAT HAVE I MISSED?
What have I missed on the list? Please leave any other ideas in the comments below to help make this an even better resource!
Happy Summer, everybody! Now go make some memories! :)
Have a child starting kindergarten soon?
Don't miss this post: 10 Things to Think About Before Your Child Starts Kindergarten (That Have Nothing to Do With Academics)
Enjoy this post?
Please "pin" the image below so you can refer back to it.
And thanks for sharing it with your friends, too!
xo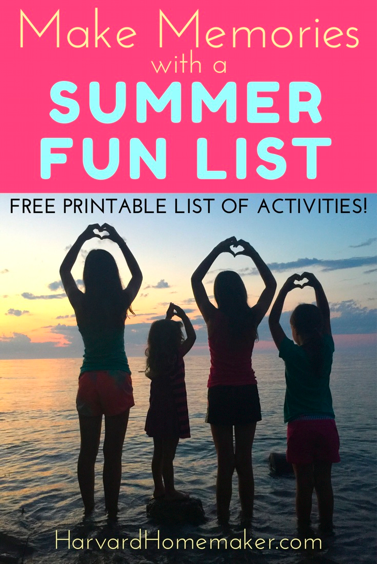 If you'd like to keep up with me and my blog (I'd love that!), please follow along via Facebook, Instagram (get to know the "real me" through my Instagram stories), Pinterest, or Twitter.