Let's face it – learning to read is hard! It can be downright frustrating for little kids. This means that parents are often distraught as well, especially if their child doesn't seem to be catching on. So why not find a way to make learning to read fun?
A while back, my oldest daughter came home from a preschool Valentine's Day party, and she had this cute little "mailbox" she had made from paper plates where her classmates tucked all her Valentines. That eventually ended up on her doorknob, and I had the idea to start leaving her notes. I didn't even mean for it to be a tool to help her learn to read, but that's exactly what it became over time. She absolutely loved to get "mail", just like any of us! Each morning she'd jump out of bed and run to her mailbox, so excited to see what was waiting for her. (And let's hope I remembered to leave her a note!)
In the beginning, I would write an uppercase and lowercase letter on an index card, along with a picture that went with that letter. Eventually she had an entire set of homemade flashcards. We would talk about what sound the letter made, and she got a little better with time.
Once she had her letter recognition down, I started to write simple words like "on" and "cat", and I'd draw a quick picture to give her a clue. That slowly transformed into me writing her short notes, and then the mail I'd leave her gradually got longer and more complex. I can't tell you how proud she would be when she'd come flying into our bedroom in the morning and read us the note she had found. It was better than a visit from the Tooth Fairy!  (well, almost…)
The beauty of the doorknob mailbox is that your child doesn't even realize she is learning. Some kids don't respond well to sitting at the kitchen table while filling in workbooks as you look over their shoulder. This is a great alternative, and I bet your child will love it!
IS YOUR CHILD GOING TO KINDERGARTEN SOON?
If so, don't miss this post (one of my most popular posts here on my blog): 10 Things to Think About Before Your Child Starts Kindergarten (That Have Nothing to Do with Academics).
FUN FOR THE WHOLE FAMILY
 You can see below how the notes changed over time. Try to make the experience fun. You can gradually make the notes harder to read, and you can send your child some "love" via mail as well!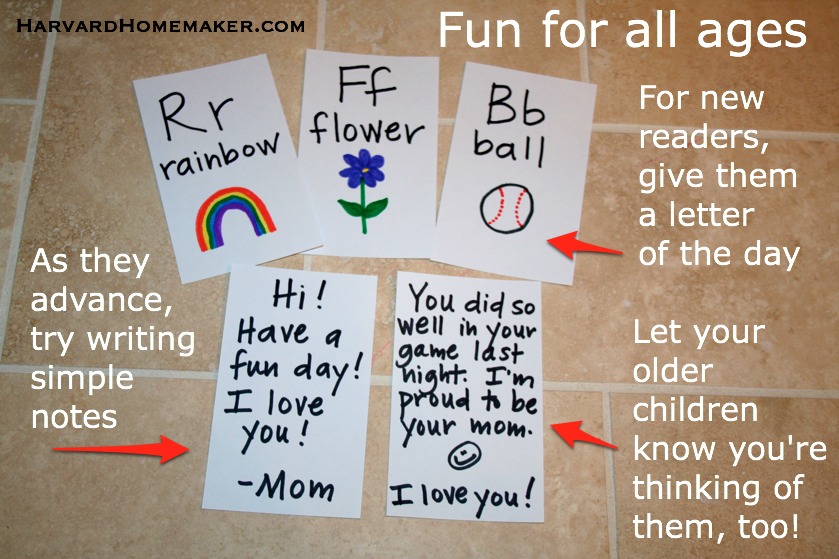 All three of our older girls now have mailboxes on their doors. I will admit that I'm not as good about leaving regular notes in my new reader's mailbox like I was with my oldest daughter, but every now and then I remember to leave a little surprise for her. And not to leave anyone out, our older girls like to receive mail once in a while, too!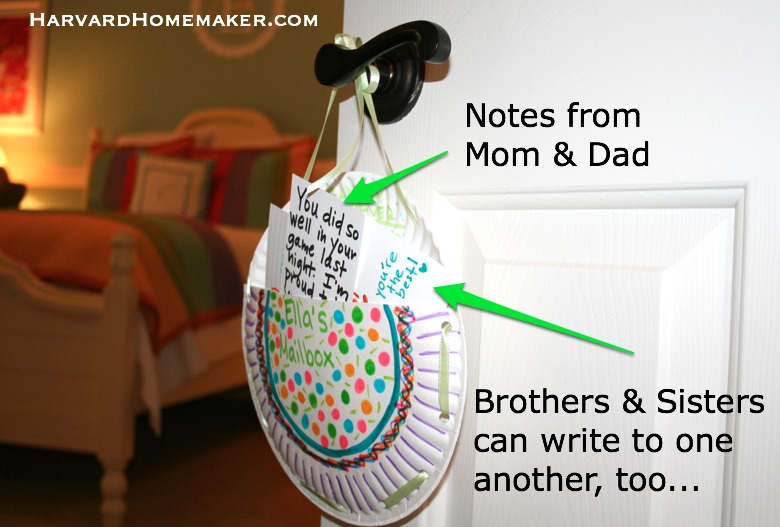 Mail doesn't just have to come from Mom (or Dad!)… siblings can join the fun, too. I think my kids like to receive notes from one another at this point more than they enjoy getting something from us! It's so cute to see what they say to one another. Also, sometimes it can be very hard to say the words "I'm sorry" – so perhaps writing it out and tucking a note in that person's mailbox might be easier every now and then. (Along the same line, sometimes it can be hard for your children to ask you difficult or embarrassing questions. See how I gave my oldest daughter a Safe Journal when she turned 10 to help encourage an open line of communication between us – it's been so helpful!)
And mailboxes don't just have to be for kids! You could put one on your door as well. You and your child(ren) could write notes back and forth like pen pals. So then not only would your child be working on reading skills; he or she would also be developing the ability to write.
HOW TO MAKE A DOORKNOB MAILBOX
My girls made their mailboxes as shown below, but your child may have another idea! As long as you can figure out a way for the mailbox to hold notes and letters, you're good!
STEP 1
Cut 1/3 of a paper plate and have your child decorate the "bottom" of it (so the plate will curve away from your child). Set it on top of another plate as shown. Then punch holes around the bottom (going through both plates).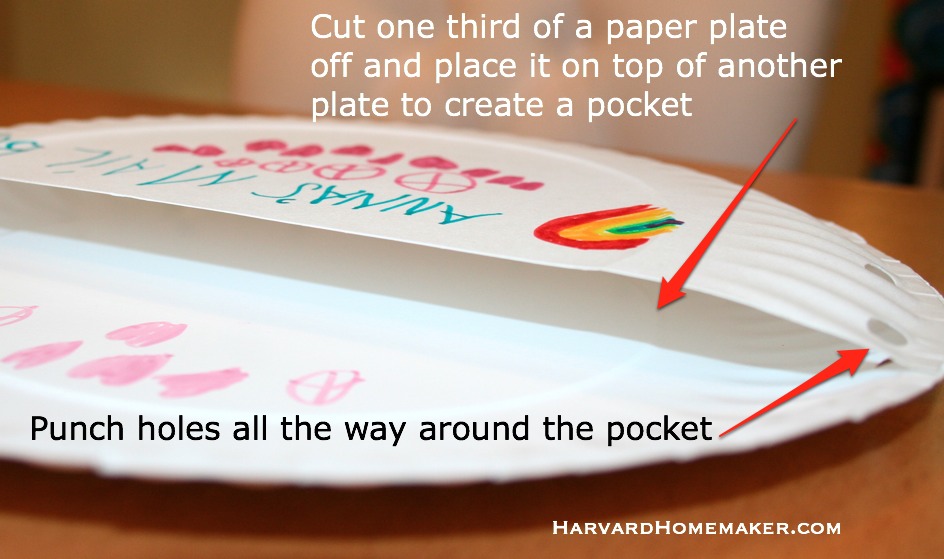 STEP 2
Weave ribbon or yarn through the holes to secure the pocket, leaving some length on the ends to create a way to hang the mailbox.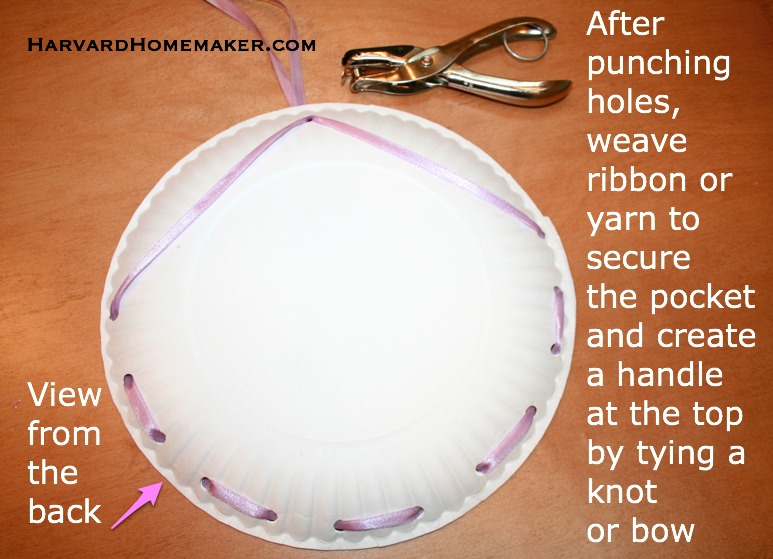 STEP 3
Hang up the mailbox! As simple as that. :)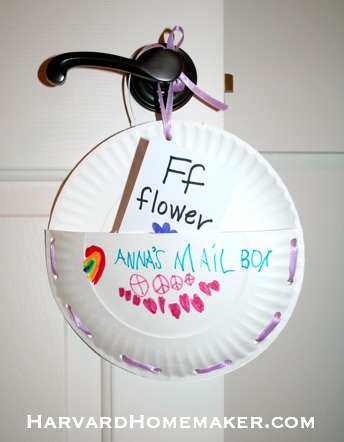 Enjoy this post?
Please "pin" the image below so you can refer back to it.
And thanks for sharing it with your friends, too!
xo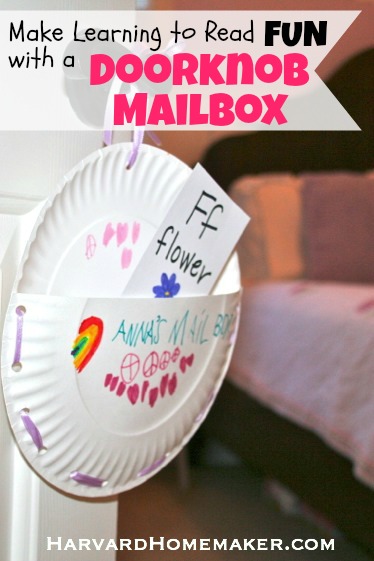 I hope this post has inspired you to help your child learn to read while keeping things fun! Even if your kids are already reading, this could be a special way for everyone to communicate and say those words that are too often left unsaid. Sometimes writing our words is a lot easier than saying them.  :)
What creative ways have you found to sneak in some learning?
If you'd like to keep up with me and my blog (I'd love that!), please follow along via Facebook, Instagram (get to know the "real me" through my Instagram stories), Pinterest, or Twitter.