This is my favorite (and easiest!) way to decorate the outside of our house for the holidays – and no lights or timers are needed! All you need is some cheap wreaths, ribbon, and candles with sensors if you really want to get fancy.
When someone told me how easy it was to hang wreaths on my windows, it was an "Aha!" moment. I was saying how I thought homes with wreaths were so beautiful because it made the house look decorated during the day, too… but that I didn't feel like dealing with huge ladders to get them on our second-story windows. I remember that person looking at me like I had ten heads.
"You just open the window and stick the wreath out."
Come again?
Oh my gosh, that's it?! Well, duh! Why didn't I realize that?!! So if any of you thought it was difficult to add wreaths to your windows, too, I'm here to help you out!
Read below for more information, including links to the wreaths, bows, ribbon, and candles that I have.
Disclosure: Some links in this post are affiliate/referral links. Please click here for further explanation. I am a participant in the Amazon Services LLC Associates Program, an affiliate advertising program designed to provide a means for me to earn fees by linking to Amazon.com and affiliated sites.
FIND WREATHS
To start, you need wreaths. Count the number of windows you have to figure out how many you need. I bought the cheapest wreaths I could find because I figured that from far away you wouldn't be able to tell if they were high-quality or not. Fifteen years later, I'm still using the same wreaths, you guys! And they still look great.
Find wreaths here that are similar to the ones I have.
I know you might be buying a lot of wreaths to start, and that will feel like a big investment. But I'm telling you – you will use these for years and years and years!! And your house will look beautiful, day and night.
ADD BOWS
Next, each wreath will need a bow. Again, I used basic bows that weren't too expensive. They will fade over time, so every 5 years or so, you might want to switch them out.
Find bows here that are what I use.
TIE RIBBON TO HOLD THE WREATHS
I like to use wide red ribbon so it's visible from the road. I like the pop of red against the house.
Find ribbon here that I use.
I recently updated my ribbon so it's looking fresh again. I also wrapped some around my garland that lines our front door – that way the ribbon matches all over the outside of the house. You could also weave some through your Christmas tree indoors.
TIP: MARK EACH WREATH SO YOU KNOW WHICH WINDOW TO PUT IT IN EACH YEAR. I USE A SHARPIE AND WRITE ON THE BACK OF THE RIBBON.
DISPLAY WREATHS
Now simply open your windows and slide the wreaths out. Close the window on the ribbon to hold it in place. Leave yourself some extra length so you can hold on to the wreath. (I have lost many-a-wreath out the window while hanging them, and then you have to walk all the way around to retrieve it!)
KNOT WILL HOLD WREATH IN PLACE
To keep the wreath secure, make sure there's a knot right up at the edge of the window.
Who knew it was so easy?! Obviously not this girl. Glad my friend finally enlightened me!
See how the house looks decorated all day long?  Homes are always lit up at night, but I love to be a bit festive during the day as well.
ADD CANDLES
Pop some candles in the windows, and you can call it a day! Even if you decide not to string any lights at all outside, the wreaths and candles will make your house feel festive.
I like the candles with sensors (find the ones I have here) so they turn on and off by themselves – easy! You have to plug them in, so you might need some extension cords occasionally, but it's worth it to not have to walk around the house to turn them on and off. I know there are some you can buy with suction cups to make sure they don't fall (like this), but I usually just hold them down with a little painter's tape if they don't seem steady. (For those of you with toddlers, these might not be for you where your kids can reach them. Your little ones will surely love them a little too much!)
So pretty and it doesn't get much easier than this! Happy decorating, my friends!
Enjoy this post?
Please "pin" the image below so you can refer back to it.
And thanks for sharing it with your friends, too!
xo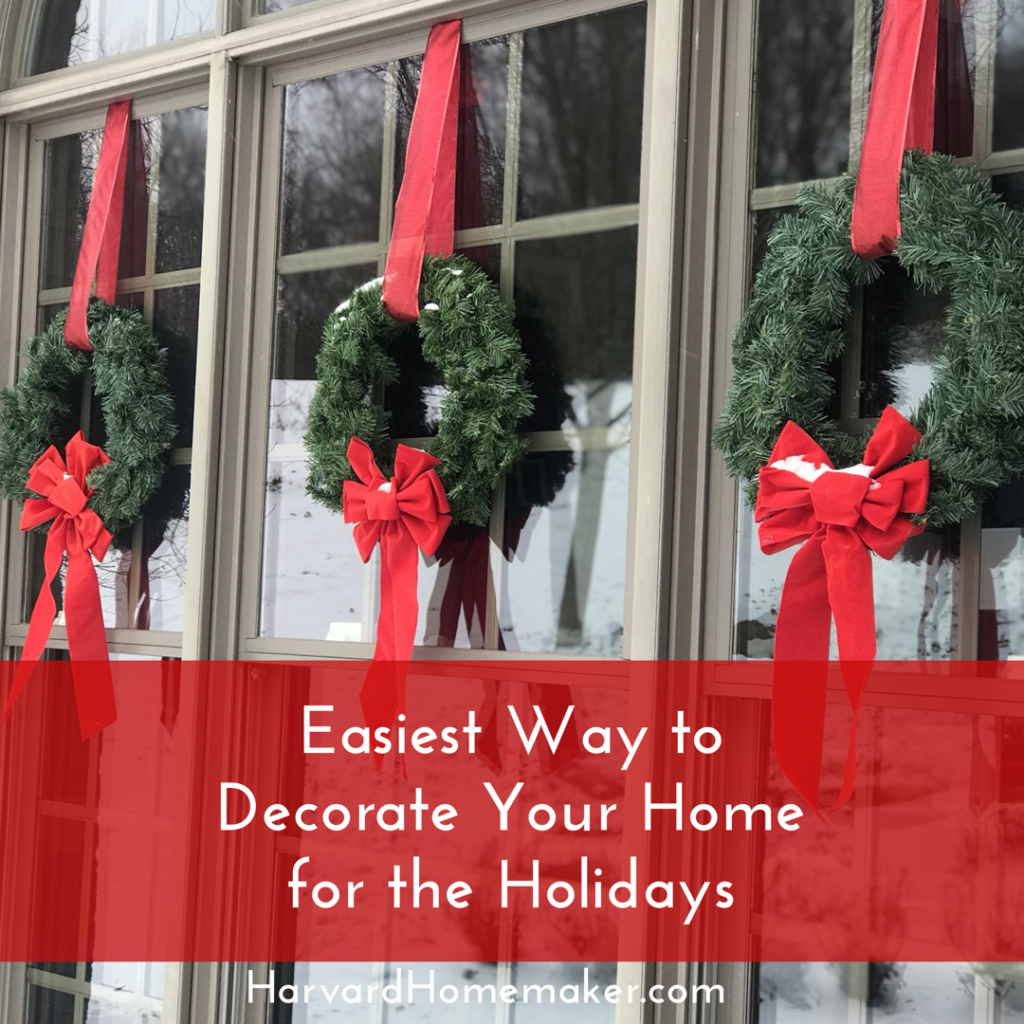 What's your best decorating tip?  I'd love to know!
Hope you are all enjoying this time of year.  It gets so hectic!!  Try to take time to enjoy before it passes you by!
If you'd like to keep up with me and my blog (I'd love that!), please follow along via Facebook, Instagram (get to know the "real me" through my Instagram stories), Pinterest, or Twitter.