This giveaway is now expired – SORRY! Thanks so much to all who entered!
Winners are BRIANA, ALLISON, AND CRYSTAL. 
*Check your email to see if that's YOU!! :)
---
I'm so excited to be hosting what's perhaps my BEST GIVEAWAY YET!
Not one, not two, but THREE lucky winners will soon have $100 to spend at Minted!!!
The giveaway expires at 11:59 pm PT on Wednesday, November 25, 2015 – so enter soon!!
It's no secret that I'm quite possibly Minted's biggest fan. I think it's the best place in the whole, wide world to get all-things-paper – and that includes holiday cards this time of year! (Find 15 great sites to get your holiday cards here – no surprise, but I listed Minted at the tippy top!)
Trust me, I know my paper. I used to have my own stationery design business, and I don't mess around when it comes to Christmas cards. It's kind of my favorite thing ever.
I first discovered Minted a few years back, and I fell in love. I have used them for my holiday cards for three straight years now. I'm just about to order for the fourth straight year. I also ordered our moving announcements there. I have yet to be disappointed, and their designs and services just keep getting better! (You can get a glimpse of one of my favorite cards we have ever sent at the bottom of this post! And find last year's card below in this post. My other favorite!!!)
And keep in mind that Minted is also a great site for gifts, art, journals, and items for your home!
Disclosure: Most links in this post are affiliate/referral links. Please click here for further explanation.
**PAN DOWN TO ENTER THE GIVEAWAY!
Or click here to go directly to the landing page to enter! (But then you will miss all my hard work, describing why I love Minted, in this post! AND you'll miss a peek at my family's card from last year, too! Don't you want to see how cute it is??! Pan down, my friends! Pan down.) :)

WHAT I LOVE ABOUT MINTED:
1. THE PAPER
They use the best paper out there – there are five different options currently offered. All are gorgeous. While I typically order the standard paper, for a minimal up-charge, I have found that I love the Premium 100% Recycled Paper. It's smoother than the standard signature paper, and the pictures come out crisp and perfect! Obviously the thicker papers are amazing, too – they just cost a bit more. They also offer cards with foil detail. I ordered a foil card one year for something unique and different – it was so pretty in person!
2. THE ENVELOPES
I always order the brown kraft paper envelopes. I think they are timeless and classy – and so well-made! I also have our return address printed on the back to match the font and style of the cards chosen.
3. THE FREE (!) RECIPIENT ADDRESSING
Okay, you guys – this is life-changing! Not even kidding. Okay, maybe kidding a little bit… but for those of you who love stationery like I do – and like having time back in your day – this free recipient addressing is THE BOMB!! I did it last year (the first year they offered it), and my envelopes were so incredibly beautiful – and so quick to have ready to send!!
I simply uploaded the addresses (which will only need some updating this year – easy!), and my envelopes ALL ARRIVED PRE-PRINTED AND READY TO SEND!! Not only that, but there are so many cute fonts, colors, and artistic elements to choose from! I can't say enough about how great this is!
Click the images below to learn more about this awesome service!


How beautiful are these envelopes?! I mean, seriously! Love.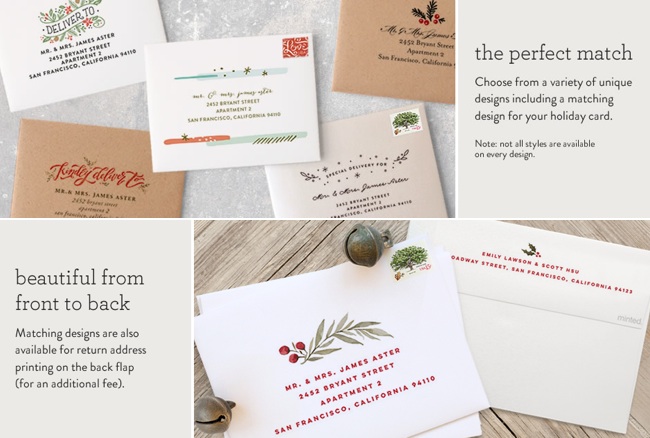 4. THE VELLUM INSERTS
If you order fold-over cards (which I happen to love!), Minted will send vellum inserts (not all companies include these). You simply place these inside your cards to keep the ink from transferring inside the card. Without them, the ink/pictures will appear smeared inside your card upon arrival.
5. THE SERVICE
Minted stands behind their products! If you are ever unsatisfied, they will work with you to make things right, no questions asked!
6. THE PRODUCTS
Not only does Minted offer beautiful cards, but they also have so much more! You have to peruse their website to appreciate all that's offered! I am a huge fan of their personalized photo art myself! You can see a piece I had made here for our home.
7. THE DESIGNS
Finally, I simply love the classy designs – everything you'll find at Minted is timeless, simple, and beautiful.
With their cards, the styles complement and highlight your pictures rather than overpower them. You can also often drag your text around so you can move it to just the right spot on your picture – this is a great feature that can be hard to find with other card sites.
OUR FAMILY'S 2014 CARD
Last year our family had just spent the summer apart. My husband had moved to Pittsburgh to start his new job, while my girls and I remained in Raleigh, preparing for our move. (Read about our emotional move here.) So we were finally reunited and so happy to be together! Hence, the "All Together Now" card was absolutely perfect for us in 2014!
See the front of our card below. And a special thanks goes out to Kathy Wolfe Photography for capturing this beautiful picture of us in our own new backyard (which I also used as the silhouette to create the new header for this website!).
Side note: Minted also carries moving announcements. We got our moving announcements from there, too (shocker!). This is the one we chose, and then I had a picture of our kids in front of our new skyline printed on the back.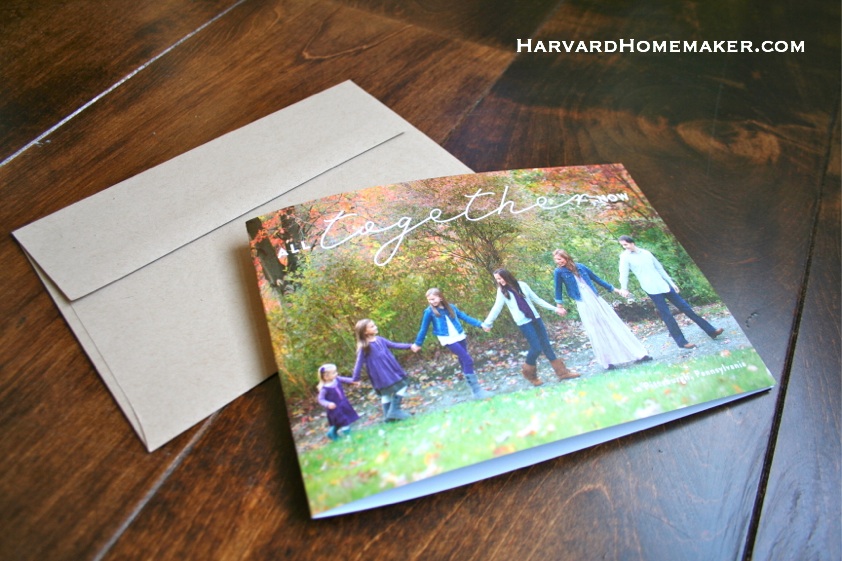 Here's a glimpse of the back of the fold-over card. (I just love the quote shown! I have it framed in our home!) The inside of the card also features an update from our family as well as more pictures. That's one of the great things about the fold-over cards – you can feature lots of pictures and still have room for plenty of text!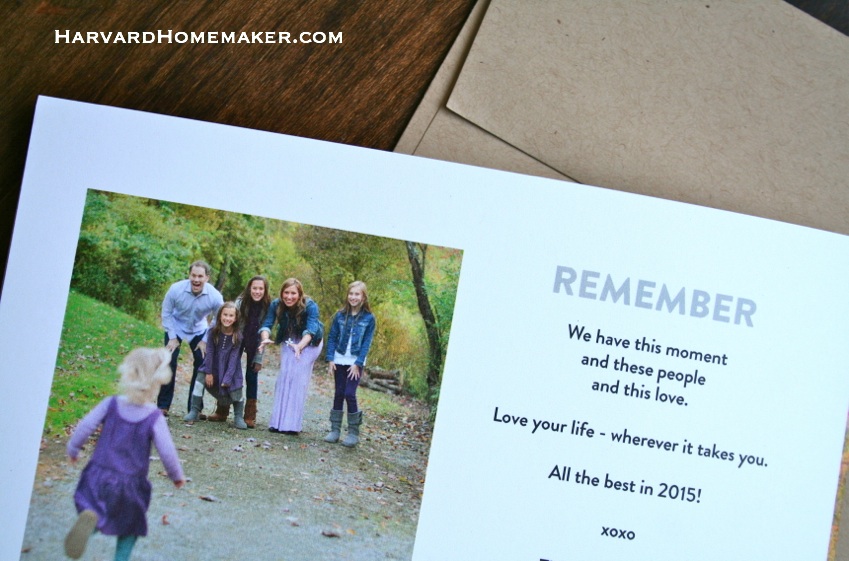 **HOW TO ENTER THE GIVEAWAY**
CLICK HERE to take you to the entry page! Or click the image below. Enter your name and email address. That's it! :)
Be sure to enter before Wednesday November 25, 2015, at 11:59 pm PT. The giveaway will expire promptly at midnight. The winner will be notified via email and announced here as well. Find a complete list of rules here.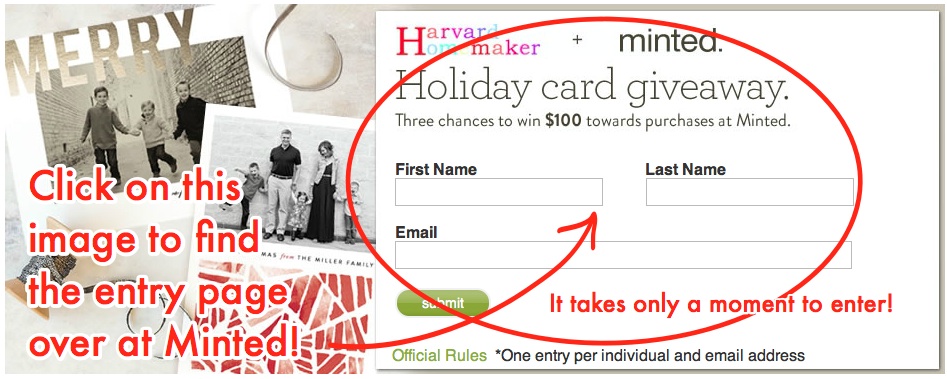 I'd love it if you also wanted to keep up with me via Facebook, Pinterest, Twitter, and/or Instagram. That way you won't miss out on all the fun here! And let's note that I make a nice friend, too! :) Every once in a while I might even be a little bit funny – try this post about my first day solo when my youngest daughter went to preschool. Oh boy. What a debacle. 
Okay, back to my obsession with Minted!
---
A GLIMPSE OF WHAT MINTED OFFERS:
Minted is not only a great place to search for holiday cards (find their entire selection here), but it's also a perfect site to find special gifts! Find some of my favorite gifts here in this post! And if you're looking for photo inspiration for your cards, don't miss this post with 100 photos to inspire your holiday cards and this one with 30 photos with wording ideas!
***Please click on the images to find each product. 
GORGEOUS FOIL ACCENTS

FUN SHAPE COLLAGES
COMPLETELY CUSTOM CARDS
New this year! You can use your own drawing (or your child's!) to create cards that are truly unique and personal to you!
SWEET & SIMPLE
UNIQUE STYLES
HOLIDAY BIRTH ANNOUNCEMENTS
Find all Holiday Birth Announcements here. Some examples:
AND SO MUCH MORE!
STILL NEED TO ENTER THE GIVEAWAY?
CLICK HERE to take you to the entry page! 
Be sure to enter before Wednesday November 25, 2015, at 11:59 pm PT. The giveaway will expire promptly at midnight. The winner will be notified via email and announced here as well. Find a complete list of rules here.

Best of luck! I'll be contacting the THREE WINNERS soon! It could be YOU! How fun would that be?! Remember – enter before 11:59 pm PT on Wednesday, November 25, 2015!
If you'd like to keep up with me and my blog (I'd love that!), please follow along via Facebook, Pinterest, Twitter, Instagram, or Google+,