Anyone who reads my blog knows that I love to start traditions!  (Some family favorites:  Halloween Boo-ing, 24 Books Until Christmas, Happy Jar… I could go on…)  So last year I started feeling kind of guilty that our family never did anything special to celebrate Valentine's Day (especially as moms around me were telling me about all the cute things they always did!).  I always looked at it as a holiday for lovebirds or a time when kids exchanged Valentines at school and ate candy up the wazoo.  I never felt like it was my job as a mother to help my kids feel celebrated on February 14th.  Heck, I was still recovering from Christmas!!!
I don't even buy my kids cards or candy – am I in the minority on that?  I guess my thinking has always been:  Don't they get enough of that stuff at school?!  I DO help my kids make their Valentine's Day cards each year for their classmates, though, so I guess that's something.  (See the photo cards we made last year and the melted crayon hearts we made this year).  And occasionally we might even bake something special like these pink butter cookies.  But in general, we have never had any family traditions to celebrate the day.
So last year on Valentine's Day morning, I decided I was going to start a tradition, darn it.
But let's be real, people.  We have only just recovered from the stress of moving the Elf on the Shelf each night after all (I do love that Elf, though!!  Stress-saving tip:  Add an alert on your phone so it goes off each night to remind you to move that little friend!)
There was no way this new tradition was going to be complicated.  On a whim, I scribbled "What do I love about you?" on a large piece of kraft paper and drew 6 hearts, one for each of us.  We then all took took turns writing notes to one another.  We always say, "I love you" in this family, but rarely do we really express what we love about each person…
It was a huge hit!  Everyone enjoyed both writing and reading the notes, and the messages were absolutely priceless.  They were so priceless, in fact, that I decided to save the banner.  I dug it out recently so I could hang it up once more, and we all enjoyed reading the notes again.
So this year I created a new poster.  This time I made it a bit larger so there was more room to write.  I also used painter's tape to hang it for two reasons:  1) it would minimize the chances of damaging the door; and 2) the tape would peel off easily so I could keep the poster as a keepsake without ripping it.  (Last year I ripped the banner while taking it down because I wasn't intending on keeping it.)
Going forward, I plan to pull the old banners out and tape them up on doors around our house while adding a new bunch of Valentine notes each year.  To write this post, I put the banner up early so I could take pictures, and we've actually liked having it up prematurely.  We all stop to look at it frequently… perhaps we'll start writing our notes in early February each year and keep the banner up throughout the entire "month of love"!
A fun and simple family tradition to mark Valentine's Day is now in place!  I can shake the mom guilt and call it a day!  :)
Here's a glimpse of last year's banner.  I hung it up again this year.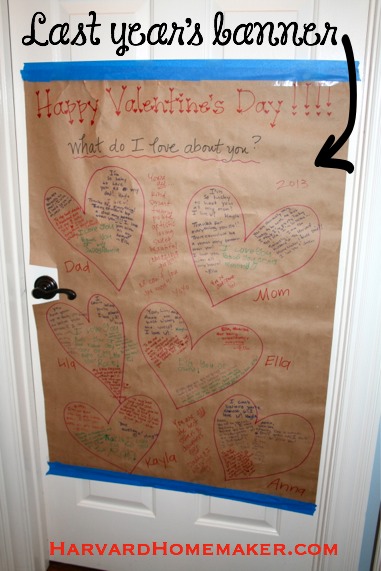 There were so many sweet notes that made us smile.  The one below is one of our favorites.  It was written by my then-five-year-old to my then-11-month old:  "I love you 'cause you are so cute and you are my baby sis.  Lila, you rock!"
Here is this year's banner all ready to go, hung with painter's tape.  I just used kraft paper since I always have a roll handy.  As I explain in this post with 100+ Ideas to Help Organize Your Home and Your Life, I like to wrap gifts with kraft paper so all I have to do is add a ribbon that coordinates with the occasion, and I'm good to go.  Saves me a trip to the store, and I have to keep a lot less around the house!  It looks cute and classy, too.  :)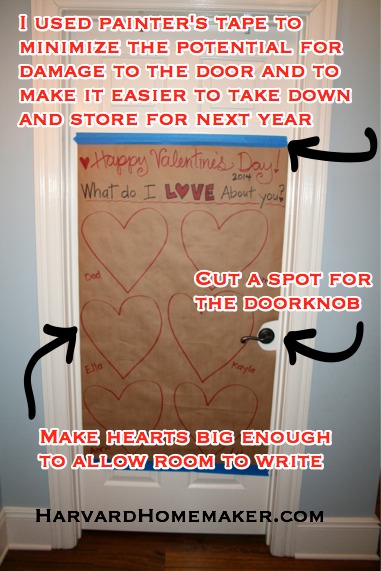 Before… waiting for some love!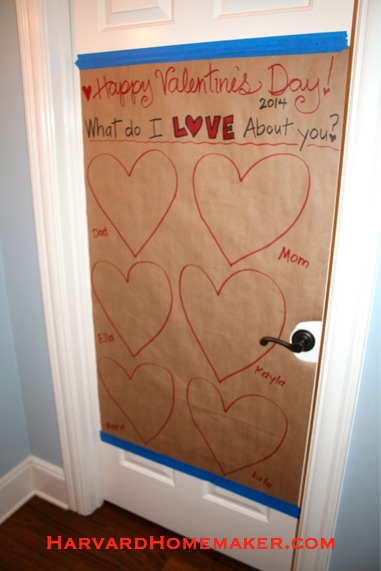 After… there were a lot of smiles around our house after these hearts were filled in!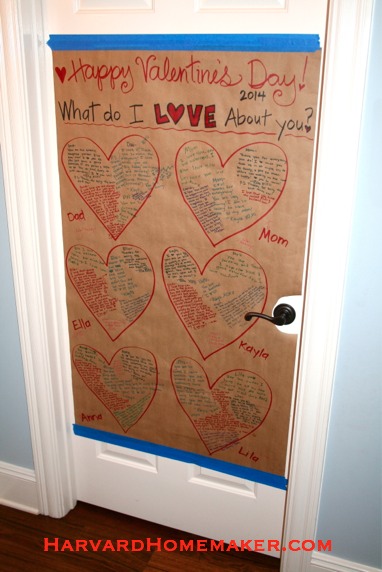 Not surprisingly, this little beauty below was one of my favorites.  I might have danced a small jig to really drive home my funny mom status after reading it…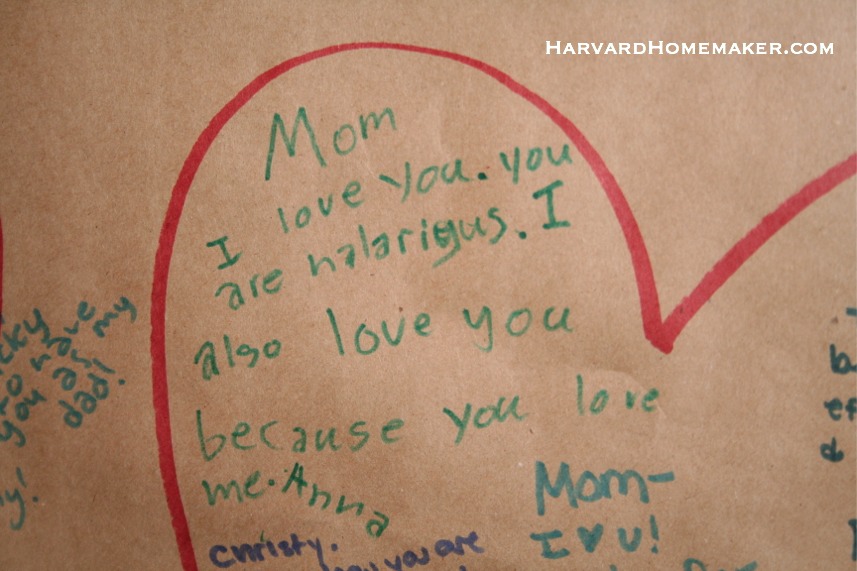 Happy Valentine's Day, my friends!  I hope you all feel the love in some way that day!
What does your family do to celebrate Valentine's Day?
If you'd like to keep up with me and my blog, please follow along via Facebook, Pinterest, Twitter, or Instagram.